New Royal Marines unit stands up in Scotland
Three-hundred Clyde-based Royal Marines were joined by family members and friends yesterday, 3 April, to mark the official formation of 43 Commando.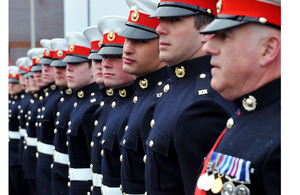 43 Commando, formed by bringing the former Force Protection Group Royal Marines under the 3 Commando Brigade umbrella, becomes the second Royal Marines unit based in Scotland, and the largest in the UK, with 790 men.
The last unit to hold the name was disbanded in the aftermath of the Second World War after fighting with distinction in the Mediterranean, Italy and the Adriatic.
During a parade at the unit's home base of HM Naval Base Clyde, medals were also presented to 15 commandos and sailors, some of whom had taken part in counter-piracy operations.
Among the decorations awarded were the Long Service and Good Conduct medal, awarded to members of the Armed Forces with 15 years of reckonable service; the Iraq medal; and the NATO African medal.
The day was made all the more poignant for the Marines as it also commemorated the 67th anniversary of the battle of Lake Comacchio, one the Second World War's fiercest fought battles, and an encounter which saw Thomas Hunter – a Royal Marine from Edinburgh – awarded a Victoria Cross.
Travelling from Edinburgh to witness the parade and the resurrection of her brother's old unit, was Agnes Swinney, the sister of Corporal Thomas Hunter.
During the parade there was a short religious service followed by an address by the Royal Navy's Commander Operations, Rear Admiral Ian Corder.
The Rear Admiral praised the valuable contribution of the Royal Marines in support of operations at home and worldwide.
Afterwards, the Royal Marines held a families' day at HM Naval Base Clyde, where visitors were given a chance to see some of the equipment which the commandos have used in operations around the globe.
Published 4 April 2012