New report shows resilient seaside towns can take new chance to grow
Resilient small seaside resorts can seize the opportunity presented by local enterprise partnerships to transform economic growth along our …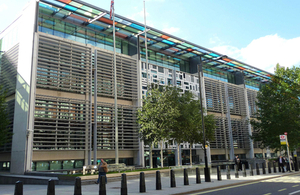 Resilient small seaside resorts can seize the opportunity presented by local enterprise partnerships to transform economic growth along our coast, Local Government Secretary Eric Pickles said today.
A new report by Sheffield Hallam University on small seaside towns, paints a compelling picture of economic and social challenges, enterprise and resilience over the last decade.
Classic seaside towns - mainly in the South West and East Coast - missed out on the economic growth of the past decade that centred on London and the South East, the report finds. But despite this smaller resorts have often done better than their larger counterparts - for example experiencing a smaller rise in unemployment during the recession.
The report finds smaller seaside towns are more reliant on the seaside tourist trade despite lacking the "more diverse economic base that in many larger seaside towns dilutes the local dependence on tourism and retirement". Research last year found UK seaside tourism has remained healthy and overall employment in tourism in seaside towns is increasing as more people holiday in the UK.
The Government sees business as the driver of economic growth and innovation. Ministers are committed to urgent action to boost enterprise, rebalancing local economies so that new businesses and economic opportunities spread across the country.
Local enterprise partnerships are central to this vision, bringing together local business and civic leaders who will operate within a geography that reflects natural economic areas to drive private sector growth and job creation.
Mr Pickles believe today's report underlines the need for a new approach to coastal resorts, which have growth potential that needs to be harnessed locally. Local enterprise partnerships are putting local councils and local businesses back in charge of economic growth so they can transform places from the ground up.
Over three quarters of these resorts are now covered by local enterprise partnerships. All areas are expected to be covered over the next few months.
Eric Pickles said:
Seaside towns play a vital part in the country's £115 billion a year tourism industry.

Today's report paints a picture of resilience and enterprise in rural seaside towns, despite missing out on the London centric growth and prosperity of the past decade.

Small coastal resorts have shown they can build stronger, more diverse economies when given the chance. The new network of local enterprise partnerships will give local communities and local businesses the chance to transform economic growth along our coast and our localist business support will also help them thrive all year round.
Notes to editors
The report by Sheffield Hallam University looked into 37 of the country's smaller seaside towns with populations lower than 10,000. It is available here www.communities.gov.uk/publications/regeneration/smallerseasidetownbenchmarking.
Key findings include:
Smaller seaside towns to be more reliant on the seaside tourist trade. Low wages, seasonal unemployment, retirement destinations and a proliferation of small businesses are more common than larger seaside towns.

In some areas smaller seaside towns have done well relative to England on key indicator including employment growth (pre-recession), claimant count (to January 2010), household overcrowding, health deprivation and crime.

Over 40 per cent of the jobs in the towns are in distribution, hotels and restaurants - the main sector where tourist-related jobs are concentrated. This compares to an England average of 23 per cent.

The data suggests that Aldeburgh, Arnside, Budleigh Salterton, Grange over Sands, Lynton/ Lynmouth, Portreath, Salcombe and West Mercia have strongest local economies among smaller seaside towns.

Those facing toughest economic problems, are: Chapel St Leonards; Cromer; Dymchurch/St Mary's Bay; Filey; Hunstanton; Mablethorpe; Sutton on Sea; Watchet; and Withernsea. Seven of the nine towns are on the East Coast.
The Government is committed to growing the domestic tourism market including seaside resorts. The Prime Minister announced progress on a £100m international marketing initiative, jointly funded by VisitBritain and private sector partners, in January. The Government's forthcoming tourism strategy will set out ways tourism can support the wider enterprise and employment agenda. The seaside industry in England and Wales directly supports some 210,000 jobs.

Coastal businesses that are eligible for small business rate relief, will benefit from the Government's doubling of the normal business rate discount, worth £390m, for a year from October that will benefit over half a million businesses. Backdated business rates bills of £175m have also been waived, giving a lifeline to many struggling firms in port towns.

Seaside towns will also benefit from the Government giving councils the power to set local discounts on business rates, provided that they are funded locally. Ministers have also set out radical new proposals to let councils keep the business rates they collect locally giving them genuine incentives to promote local economic growth.

Local groups will also be able to take advantage of the Government's plan to introduce new powers to help local communities save local facilities (like piers and community centres) and services threatened with closure. The Localism Bill, currently going through Parliament, will allow local people to take them over and run them as community businesses.
Twitter
Keep up to date with the Department by following us on Twitter (external link).
Media enquiries
Visit our newsroom contacts page for media enquiry contact details.
Published 4 March 2011