New recovery centre opens in Colchester
A new purpose-built Personnel Recovery Centre (PRC) designed to provide first class facilities for wounded, injured and sick members of the Armed Forces has opened in Colchester.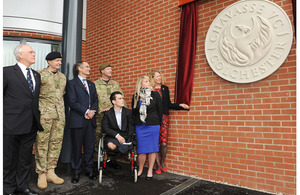 As part of the MOD-led Defence Recovery Capability, Chavasse VC House offers accommodation, social areas, family rooms and a fitness centre, as well as comprehensive and co-ordinated ongoing support.
The centre can accommodate up to 27 personnel, including two families, and a further 30 day-residents. It also offers training facilities, classrooms, and gymnasiums with state-of-the-art sports equipment.
Residents will be able to learn new skills and gain qualifications in order for them to make a smooth transition into civilian life or return to duty.
As well as being there for current serving personnel, Chavasse VC House facilities and services are open to wounded, injured and sick veterans on a needs basis.
A support hub, offering a 'one stop shop' of advice and support for residents, veterans and their families, will provide access to the expertise of many welfare agencies, Service charities and organisations. This includes advice and guidance on a number of issues such as money, health, housing, social security and much more.
Help for Heroes, working closely with the MOD, has created Chavasse VC House with contributions from other Service charities, most notably the Royal British Legion, who have agreed to cover a very significant part of the operating costs.
Speaking on behalf of the MOD, Major General Gerry Berragan said:
We in the Armed Forces are extremely grateful for all the hard work involved, not only in successfully delivering this project, but also to the continued commitment shown by our partners and all the Service charities who are working to make the Defence Recovery Capability such a success.
As part of that capability, centres such as Chavasse VC House will make a tremendous difference to our wounded, injured and sick personnel and their families.
Help for Heroes is leading on the delivery, running, management and staffing of the centre, working in partnership with the Army, who have provided staff to command, care for and deliver key recovery activities to serving soldiers.
Gunner Maxine Ball, from 3rd Regiment Royal Horse Artillery, has a debilitating hip injury which has required surgery and treatment at Headley Court, as well as at the Personnel Recovery and Assessment Centres at Tedworth House and Catterick Garrison.
Gunner Ball's first impression of the new centre was positive. She said:
It looks amazing and the staff are so friendly and welcoming.
Bryn Parry, Chief Executive Officer and co-founder of Help for Heroes, said:
The opening of the Colchester Personnel Recovery Centre is an important milestone in the wider Defence Recovery Capability. Facilities such as this would not be possible if it were not for the great British public who continue to support our wounded heroes.
These men and women are young now but they will grow old and need the support now and for the rest of their lives, and Chavasse VC House will provide that support to those who need it in the local area.
John Crisford, National Vice Chairman of the Royal British Legion, said:
The range of support, both practical and emotional, that the Colchester PRC will provide to the wounded, injured and sick Service personnel who come here will make a vital contribution to their recovery, whether they return to duty or move into civilian life.
They have given so much for our country and deserve nothing less. The Royal British Legion will always support them and their families, and is very proud to be supporting this centre.
Chavasse VC House is the latest centre to be opened as part of the nationwide Defence Recovery Capability (DRC). The DRC is a MOD-led initiative in partnership with Help for Heroes and the Royal British Legion, alongside other Service charities and agencies.
It ensures that wounded, injured and sick personnel have access to the key services and resources needed to help them either return to duty or make an appropriately skilled transition into civilian life.
Published 8 May 2012