New RAF units to provide force protection in Afghanistan
Two new RAF units have been recently formed to provide specialist force protection capabilities at Bastion and Kandahar Airfields, giving other RAF Regiment squadrons more time to recuperate between tours.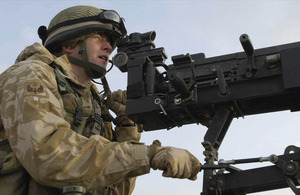 The two newly-formed units are 58 Squadron RAF Regiment, based at RAF Leuchars in Fife, and No 8 RAF Force Protection (FP) Wing Headquarters, based at RAF Waddington in Lincolnshire.
RAF FP Wing HQs and RAF Regiment field squadrons patrol areas around air stations to ensure that air assets and personnel can operate freely.
They are currently delivering in this role on operations at a number of air, joint Service and international operating bases in Afghanistan and, until recently, in Iraq.
Air Commodore Russell La Forte, the Commandant General of the RAF Regiment, said:
The formation of No 8 RAF FP Wing Headquarters and 58 Squadron RAF Regiment is an important and very welcome development.
Force protection is of vital importance to allowing the RAF to play its part in bringing stability to Afghanistan, and also to allow all those at the bases we protect to get on with their work unhindered by insurgents.
These additional units will allow us to maintain our high operational tempo whilst giving the people who man them more time to rest, recuperate, spend time with their families, and train for the next deployment.
8 RAF FP Wing HQ will build up over the coming months and will ultimately consist of 15 personnel, commanded by a Wing Commander, but when deployed on operations it may have under its control hundreds of FP personnel, including those of other ISAF nations.
58 Squadron RAF Regiment will ultimately consist of 173 personnel, commanded by a Squadron Leader.
58 Squadron RAF Regiment's previous incarnations have amassed by far the most distinguished operational record of any RAF Regiment squadron.
It has a total of seven battle honours, six of which are from World War Two, which have the right to be emblazoned on its standard.
Some of these battle honours are not held by any other active or dormant RAF Regiment squadron.
Squadron Leader David Stellitano will be the new Officer Commanding 58 Squadron.
Both 8 FP Wing HQ and 58 Squadron RAF Regiment are scheduled to deploy to Afghanistan in April 2011.
Another newly-numbered squadron in the RAF Regiment is the RAF Chemical, Biological, Radiological and Nuclear (CBRN) Operations Squadron, based at RAF Honington in Suffolk.
The squadron has been designated 26 Squadron RAF Regiment. It is equipped, structured and trained to deliver specialist CBRN defence capabilities in support of expeditionary and homeland operations.
It provides unique, world-leading capabilities in the collection and safe transportation of biological, chemical and radiological samples from wherever they are found in the world, including operational theatres, to laboratories for analysis. The squadron also provides support to UK and overseas CBRN counter-terrorist activities.
The role is hazardous, challenging and specialised, requiring training with live chemical, biological and radiological (CBR) weapons-grade material, and continuous maintenance of extremely high readiness for roles that potentially include CBR-contaminated environments and terrorist CBRN weapons, as well as personnel having to defend themselves against conventional threats.
The squadron is part of the RAF FP Centre, also at RAF Honington, and is currently established for 59 personnel, predominantly RAF Regiment.
The allocation of a squadron numberplate and, given its operational role, a squadron standard, recognises the continuing 40-year contribution that the squadron has made to operations.