New protection for victims of 'stranger stalking'
Home Secretary announces plans for stalking protection orders.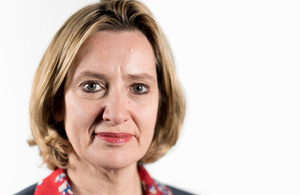 The Home Secretary has announced her intention to introduce new stalking protection orders which will help protect victims at the earliest possible stage.
Amber Rudd made the announcement as part of a package of government measures to prevent violence against women and girls (VAWG).
She announced plans for the new orders, designed to intervene early to keep victims safe and stop 'stranger stalking' before it escalates, after visiting the National Stalking Helpline.
Home Secretary Amber Rudd said:
Stalking can have devastating consequences and I am determined that we do all we can to protect victims from these prolonged and terrifying campaigns of abuse that can last years, leaving many people too afraid to leave their homes and unable to get on with their lives.

Four years ago this government created specific stalking offences to ensure those responsible face justice. Today I want to go even further and offer protection at the first signs of stalking, stopping offenders in their tracks.
Stalking can affect anyone and shatters millions of lives, with as many as one in five women and one in ten men becoming victims during their lifetimes. The helpline has already dealt with over 3,550 calls this year.
In future, when victims seek help police will be able to apply to the courts for an order to impose restrictions on perpetrators, such as staying away from their target or restricting their internet use. They may also be subject to requirements such as attending a rehabilitation program or seeking treatment for mental health issues. Breaching the conditions will be a criminal offence with a maximum sentence of five years in jail.
The new orders will offer additional protection at an early stage for anyone who has not been intimate relationship with their stalker, helping those targeted by strangers, acquaintances or colleagues, as well as professionals such as doctors who may be targeted by patients.
They are being announced 4 years after the stalking offences came into effect in November 2012. There have already been over 2,000 prosecutions under the new offences, with 1,102 in 2015 to 2016 alone. The new orders will provide additional protection against stalking before a perpetrator's behaviour becomes entrenched and will help keep victims safe, including while evidence is collected prior to a prosecution.
National Police Chiefs' Council Lead for Stalking and Harassment, Assistant Chief Constable Garry Shewan said:
We want to stop stalkers in their tracks. In the last year, police have recorded 32% more stalking offences and more perpetrators are now being prosecuted. The launch of stalking protection orders will help us intervene earlier and place controls on perpetrators to prevent their behaviour escalating while the crime is investigated.
Stalking protection orders form part of a package of government action announced during the 16 days of action following the 25 November International Day for Elimination of Violence Against Women. The package includes measures to support all victims, boost early intervention and prevent offending.
A new £15 million fund will boost local provision of VAWG services to promote and embed the best local practice. A national statement of expectations has also been published, setting out requirements for local areas to ensure services put the victim at the centre and have a clear focus on perpetrators and early intervention.
The VAWG service transformation fund will be open to Police and Crime Commissioners, local authorities and health commissioners to support community-based services and promote best practice. They will be encouraged to make joint bids for funding with women's charities and VAWG service providers to encourage a joined-up approach with a focus on early intervention as well as crisis response.
Published 7 December 2016