Press release
New proposals to help struggling pubs get a fair deal
Proposals to help struggling pubs get a fair deal were announced today by Business Secretary Vince Cable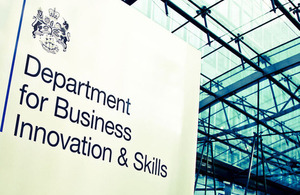 Pubs struggling to pay rent or beer prices could save thousands of pounds a year each, thanks to a new Code of Practice and the backing of a powerful Adjudicator, under proposals announced today by Business Secretary Vince Cable.
Ministers want to make sure that pub tenants are treated fairly by pub companies and hope that the new proposals will save tenants £100 million per year. The Code would contain mandatory rules for all pub companies who own a certain number of pubs. In particular it would stop pub companies abusing the beer tie, which obliges tenants to sell certain types of beers often at high prices.
Under the proposals a new Adjudicator would have the power to:
enforce the Code
investigate any breaches, and
deal with disputes through possible sanctions and fines
The proposals are contained in a consultation published today. The Code will apply to those pubs which own over 500 pubs, to focus on the part of the industry where almost 90 per cent of complaints are received. The consultation seeks views on whether this is a fair threshold.
Business Secretary Vince Cable said:
We gave pub companies every chance to get their house in order. But despite four select committee reports over almost a decade highlighting the problems faced by publicans, it is clear the voluntary approach isn't working.
Pubs are small businesses under a great deal of pressure, many of which have had to close. Much of that pressure has come from the powerful pub companies and our plans are designed to rebalance this relationship.
Pubs play a valuable role at the heart of our communities and we urgently need a change to help them survive and become profitable. These plans will do just that and could save pub tenants £100 million per year by making sure that pub companies charge their tenants fair rents and beer prices.
The new proposals could also allow tied pubs to have independently picked guest beers and help the growth of small beer and ale manufacturers across the UK. The Government is committed to building a thriving pub sector. The industry represents many small businesses, employing hundreds of thousands of people across the country.
Employment Relations and Consumer Minister Jo Swinson said:
We are committed to stamping out abuse of the beer tie and helping British pubs to thrive. It has been a huge concern of mine that pubs, often the hub of our communities, are closing down at an alarming rate. What is also shocking is that the figures show that almost half of tied pubs earn less than £15,000 a year, and struggle to make ends meet because of rising beer prices and rent.
I have heard about a variety of unfair practices such as large unjustified increases in rent, and am clear that this sort of behaviour is not good enough.
These proposals will put a fairer system in place and will make sure that tied pubs are no worse off than free-of-tie pubs. For the first time if pubs feel they are being treated unfairly by their landlords they will be able to complain to a powerful new body.
This month is also Community Pubs Month with some great work going into helping community pubs. Alongside the recent beer duty discount announced in the Budget, these plans will support the pub industry and the role pubs play in building a stronger economy in our local communities.
Under proposals the Code will make sure that:
pubs are fairly and lawfully treated by pub companies
tied pubs are no worse off than free-of-tie pubs
pub companies charge fair rents and beer prices, with the possibility of open market rent reviews
tied pubs could have the option of a guest beer, picked independently, which could help the growth of small beer and ale manufacturers in the community.
If pubs feel that they are being treated unfairly or there has been a breach of the Code, they will be able to complain to the Adjudicator who can investigate and arbitrate the dispute for them. They will have the power to enforce the Code and impose fines on pub companies if the breach is severe.
Notes to editors
1.The consultation is available to view online at https://www.gov.uk/government/consultations/pub-companies-and-tenants-consultation and will run until 14 June.
The beer tie refers to a condition in a lease which requires a tenant to buy beer through the pub owning company, rather than on the open market. Traditionally this involves a discounted property rent, the 'dry rent', and above market prices for the beer, the 'wet rent'. This means that tied tenants have less choice and flexibility with regard to how they run their pub. There are other ties in operation but beer accounts for the vast majority of sales.

The meaning of pub tenant in the consultation is the same as pub licensee - a term used in previous government publications on the topic.

There are approx 50,000 pubs in the UK and 48% of pubs are tied (as of September 2012).

If the proposed threshold for the Code remains the same, pub companies that have 500 or more pubs that will fall under the Code would be; Enterprise Inns; Punch Taverns; Greene King; Admiral; Star; Marston's; Wellington; Trust Inns and Spirit.

Self-regulation has been tried since 2004, including the introduction of an Industry Framework Code of Practice and an independent arbitrator and advisory service, but evidence suggests it has not worked. There have also been four BIS Select Committee reports on the matter since that time.

To strengthen the evidence of any action the government might take, the Government will also commission independent research and analysis of the impacts on both gross and net pub closures and employment levels. This analysis will be based on as much robust evidence as is available.

Community pubs month was launched by CAMRA on 1 April, and follows the success for last year's event in which 6000 pubs nationwide held events and promotions.
9.The government's economic policy objective is to achieve 'strong, sustainable and balanced growth that is more evenly shared across the country and between industries'. It set four ambitions in the 'Plan for Growth' (PDF 1.7MB), published at Budget 2011: * to create the most competitive tax system in the G20 * to make the UK the best place in Europe to start, finance and grow a business * to encourage investment and exports as a route to a more balanced economy * to create a more educated workforce that is the most flexible in Europe. Work is underway across government to achieve these ambitions, including progress on more than 250 measures as part of the Growth Review. Developing an Industrial Strategy gives new impetus to this work by providing businesses, investors and the public with more clarity about the long-term direction in which the government wants the economy to travel.
Published 22 April 2013