News story
New pre-payment system to prevent abuse of premium visa appointments
New premium visa service to free-up appointments for genuine applicants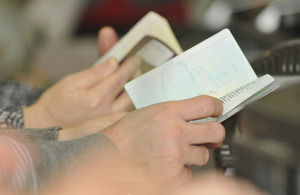 A new pre-payment system to help prevent the abuse and increase the efficiency of premium visa appointments has been launched.
Pre-payment
The previous, free booking system had been repeatedly abused by individuals and organisations who had block booked appointments and hampered legitimate users from arranging appointments - Public Enquiry Offices (PEOs) reported that on average 20 to 30% of appointments were missed a week.
Visa applicants wanting to book premium in-country appointments at a PEO, will pay the same £375 fee but now £100 will be paid in advance at the time of booking an appointment.
The remaining balance of £275 will be paid at the appointment along with the standard application cost. However, if applicants fail to attend the £100 will not be refunded unless five working days notice is given.
The advance fee has been introduced, as part of the immigration fees changes, to tackle the increasing amount of missed appointments at PEOs and its impact on both appointment availability for applicants and Home Office revenue and staff resources.
Abuse
Immigration Minister Mark Harper said:
These changes will make it harder for unscrupulous agencies and individuals to abuse the pre-booking system for premium visa appointments and exploit applicants by charging inflated fees for profit.

We are determined to ensure that genuine visa applicants receive the very best visa service possible, and this is just one of the changes that we will be introducing to make sure this is the case.
The new system will help to make more appointments available for genuine applicants and help protect them from paying unnecessary and often unfair fees to agencies or individuals.
The Home Office also plan to launch an online application pre-payment service later in the year as its commitment to improving customer service.
Published 8 April 2013