New powers will put faith groups at the centre of their communities
Communities Secretary Eric Pickles today urged faith groups to make use of new powers in the Government's Localism Bill to end their reliance…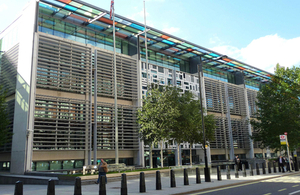 Communities Secretary Eric Pickles today urged faith groups to make use of new powers in the Government's Localism Bill to end their reliance on the goodwill of local authorities alone, and strengthen their arm in playing an active and visible role in society.
Speaking to the Cinnamon Network - a faith-based charities group - the Secretary of State outlined the Government's continued financial support and commitment to faith groups. He acknowledged that faith groups - often engaged in vital work within communities - can face barriers in terms of securing funding from local authorities and endless unnecessary red tape.
Mr Pickles argued that a misplaced suspicion of faith groups risks society missing out on opportunities to make the most of their enthusiasm and expertise, whilst health and safety zealots pushing rules and red tape beyond the realms of taking care of people makes it unnecessarily hard for people to play their part.
He used the speech to outline how this Government is committed to giving faith groups new powers and freedoms to act in their communities, from the running of public services to taking over much-loved local assets. He also pledged to help to overcome red tape and petty regulation that stands in their way of getting further involved in local life.
Eric Pickles said:
In the eyes of some, being religious is seen as being 'weird'. They don't want public discussion about faith, and don't want faith to have a role in our communities. Everyone - whether religious or secular - loses out from that kind of attitude.

We need to ensure that all our faith groups have every opportunity to make their mark. To restore some common sense, give them new powers and freedoms, and remove the over-the-top bureaucracy and red tape that stands in their way. So we are changing the balance putting faith groups on surer footing with new rights to have a say and to challenge that will open the door for faith groups to get further involved in local life.
The Localism Bill - currently going through The House of Lords - includes two key measures that place power in the hands of local charities and local people giving them a greater say over what happens in their area.
First under the Community Right to Challenge community, voluntary sector and faith groups with bright ideas on how services could be better run will be given new powers to challenge and take over local services, such as meals on wheels, or homelessness support. Second, under the Community Right to Buy they will be given greater opportunities to have a fair chance to take over, save or transform local buildings. This could see for example a run-down village hall transformed into a centre for social enterprise.
Ministers have also set out a reasonable set of expectations of how local authorities should behave towards faith, voluntary and community groups. They have made clear that whilst councils have challenging decisions to make around their spending priorities they should avoid passing on disproportionate cuts to the voluntary sector. Charities and volunteers should be included in local debates about future services and should be given at least three months' notice when councils decide to end grants or payments under contract.
Notes to editors
1. Set up in October 2010, the Cinnamon Network is a group of over 40 Chief Executive Officers of faith-based charities developing responses to the Government's Big Society agenda.
2. The Government continues to recognise the importance of faith organisations to local communities. Earlier this year, £5m was awarded to the Church Urban Fund for the 'Near Neighbours' programme, £5,000 each for small-scale, grass-roots projects designed to bring people of different backgrounds together.
3. Research commissioned by the Cinnamon Network shows that almost 70 per cent of Churches plan to increase their social action initiatives this year.
4. Putting a monetary value on the contribution faiths make is not easy, but the Cinnamon Network commissioned research reveals that churches and their congregations contribute significant time as well as monies to their communities. The 284 churches involved in the sample delivered a total of 439,000 hours of volunteer service in the last 212 months, which equates to 1,925 per church on average; These churches contributed £1,234,000 to finance social action work, or £7,568 per church, spent on an average of 3.3 projects; Projecting these figures against population and church going for the UK gives an estimate of 72 million hours of volunteering for Church-led initiatives over 12 months.The Cinnamon Network research into the Church's current involvement in local social action, is available at www.brin.ac.uk/news/?tag=cinnamon-network (external link).
5. The Localism Bill includes new rights for local communities, including the Community Right to Buy and the Community Right to Challenge. The Government has consulted on both rights and will be responding shortly.
6. Those faith groups who are finding it hard to get things done because of excessive red tape, rules and regulations can get in touch with Communities and Local Government through our 'barrier busting' website at http://barrierbusting.communities.gov.uk/ (external link).
Twitter
Keep up to date with the Department by following us on Twitter (external link).
Media enquiries
Visit our newsroom contacts page for media enquiry contact details.
Published 16 June 2011