New portable system helps troops bridge gaps in Helmand
A new portable bridging system procured by Defence Equipment and Support (DE&S) is helping British troops on operations to more easily cross obstacles in their paths.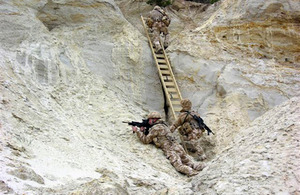 The lightweight bridges have been deployed in theatre to help soldiers cross Afghanistan's network of wadis, canals and ditches.
The DE&S Manoeuvre Support Team has worked with BMT Defence Services to solve the problem.
Roger Pidgeon, the DE&S team's project manager for the short gap crossing, said:
We received an urgent request for an ultra-lightweight and man-portable short gap crossing capability.

In the first instance we looked to deliver a commercial off-the-shelf solution, but none was immediately available on the market.

BMT's engineering knowledge helped us to reach specialist suppliers in the motorsport and aerospace sectors who have extensive experience in lightweight aluminium, carbon fibre or composite structures.

Our requirement was turned into a bespoke design solution by BMT in just four weeks.
The bridges designed by Alpha Composites can be carried by each member of a patrol. Troops can also use the system as a lightweight assault ladder, replacing the bulkier, heavier in-service equipment.
David Taylor of Alpha Composites said:
BMT asked if we could submit a design to their requirement. We are used to working to tight timeframes and are delighted that our short gap crossing system has received an outstanding reception by front line troops.
Stuart Olden, BMT lead for land systems, added:
The Defence Technology Strategy asks us to target the better, faster pull-through of new technology into military capability.

This project is a great example of MOD and industry working together to deliver critical equipment in a short timeframe. BMT's agile, responsive, systematic approach has been proven by yet another project delivered on time and to budget.

We are proud of our work with Manoeuvre Support and continue to assist the team on a number of counter-improvised explosive device programmes.
This article was first published in the February 2011 issue of desider - the magazine for Defence Equipment and Support.
Published 8 February 2011