News story
New Polycast factory to enter automotive supply chain in Mexico
UKTI helps Southampton based casting firm Polycast with its international expansion to develop its first factory in Mexico.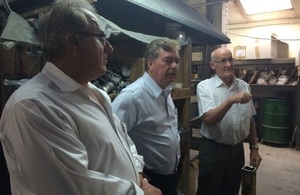 Specialist investment casting firm Polycast will supply the growing automotive market in the Americas region through its latest move. The company have purchased land and property for a new factory in the city of Mexicali. Polycast will join 20 other British companies already manufacturing in the state of Baja California in Mexico.
Ian Haddon, Managing Director of Polycast and Chief Operating Officer of Unipol, said:
Investing in a manufacturing footprint locally to meet the growth potential of our markets has been fundamental to our success.
Polycast has been receiving support from UK Trade & Investment (UKTI) for over 7 years. This has helped them meet the right contacts to help with their international expansion plans in Mexico.
Ian Haddon said,
UKTI staff have consistently understood our business and our requirements. They have always been there with excellent quality information and advice. We have capitalised on their extensive relationships in China, India and Mexico. As we develop our next five year growth plan and future geographical and market expansion we will be relying on them again.
A delegation of 10 political and business development representatives from the state of Baja California recently visited Polycast's original foundry in Warsash. They were led by state governor, Mr Francisco Arturo Vega de Lamadrid.
Ian Haddon said,
"The professionalism and joined-up support structure offered by Baja California for overseas investing companies is truly of the highest quality and this made our decision to choose the city of Mexicali an easy one to make.
New factory
The new 55,000 square foot facility in the Mexican State of Baja California will open by January 2016. The factory will employ up to 270 employees.
The new factory is expected to generate an extra £20 million turnover for Unipol (Polycast's joint venture). Unipol, supplys cast turbocharger wheels to the global automotive turbocharger manufacturing industry.
How UKTI helped
Polycast has made extensive use of UKTI's overseas networks by participation in different UKTI programmes, This includes:
Background
Warsash based Polycast is famous for making the world's most recognised car mascot, the 'Spirit of Ecstasy'. This emblem is found on the front of Rolls Royce cars.
The 30 year old firm has seen big growth over the last 10 years, through its 50% joint venture ownership of Unipol Ltd. This has transformed the £2 million turnover company into a £25 million international company.
The new factory will add to their 2 existing foundries in China, and their aerospace approved foundry in India. They will have 220,000 sq ft of production space in total across the 4 sites.
Contact us
Book an appointment with an export adviser if you're interested in developing your business overseas.
Published 29 July 2014