New police station for Nad 'Ali
A newly-built police station has been opened this week in Chah-e Anjir, a key town in the northern Nad 'Ali district of Helmand province.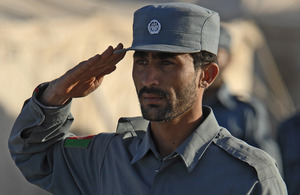 The new station is part of a renewed surge to bring effective and professional community policing to the districts outlying Helmand's provincial capital of Lashkar Gah.
Chah-e Anjir is a centuries-old settlement lying on a wadi which predates the 1950s irrigation and development projects that created the habitable area of Nad 'Ali.
The significance of Chah-e Anjir is valued by the local Pashtuns who, with their long memories, have a deep understanding of the historical role the town has played.
Of late, the area has been somewhat disenfranchised, falling into the gaps between the Nad 'Ali district centre, the seat of local governance to its south, and Lashkar Gah, with which it shares a history of geographical significance.
The newly-appointed Afghan National Police (ANP) Chief for Nad 'Ali, Major Shadi Khan, is aiming to bring about a renewed focus on this northern part of his district.
Together with the local ANP commander in Chah-e Anjir, Lieutenant Hamidullah, Major Khan is hoping to strengthen the position of the ANP in northern Nad 'Ali.
Captain Ross Boyd from The Argyll and Sutherland Highlanders, 5th Battalion The Royal Regiment of Scotland (5 SCOTS), who mentors Lieutenant Hamidullah in his day-to-day security operations, said:
This new police station provides a model for what policing in Helmand should look like. It gives the locals of Chah-e Anjir a focus for local security issues and portrays the ANP as a professional and credible force.
The ANP themselves can take pride in it and identify it as a beacon for their own professionalism and development and as a representation of the Afghan Government in the area.
A reinvigorated recruiting strategy is focusing on getting local Nad 'Ali recruits through the intensive eight-week training course at the Helmand Police Training Centre, currently being run by troops from 5 SCOTS.
There is also a plan to redeploy police from the now largely secure Lashkar Gah to the more contested outlying districts. These are seen by ISAF commanders as the vital first steps in building a strong local police presence in Chah-e Anjir and surrounding areas.
Lashkar Gah currently provides the model of security force laydown in the Helmand counter-insurgency campaign. The ANP provide community policing in the city centre, in the most part without ISAF assistance, and Afghan National Army troops and their ISAF partners provide security in the more contested areas outside the urban sprawl.
The challenge now is to recreate this example in the districts around Lashkar Gah. Progress in Chah-e Anjir over the coming months will be dependent as much on the locals' engagement with local governance and security as on the success of the ANP and ISAF plan.
Published 18 January 2011