Press release
New plans to improve our local river environments: only 4 weeks left to share your views and ideas
The Environment Agency has recently set out plans for how water in the South West will be looked after from 2016 to 2021. And, after a consultation lasting 6 months, there are only 4 weeks left to have your say on how else we can improve and protect the local water environments across the South West.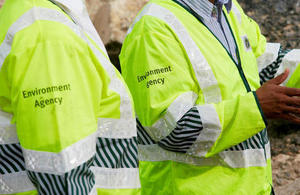 Water and water environments are essential for life and livelihoods. The average person in the UK uses 150 litres of water every day in their home. But, if you also include all the water used in growing and manufacturing the things we all use or consume, each of us uses an average of around 4,600 litres (over 1,000 gallons) of water per day.
Rivers, lakes, estuaries, coastal areas, wetlands and groundwater provide many benefits; they supply drinking water, support fisheries and provide an essential resource for business and agriculture as well as providing transport links and social benefits.
Since the first River Basin Management Plan was written back in 2009, 335 kilometres of river and 19 hectares of lakes have been improved. This has resulted in improved wildlife (fish, plants and insects) and a reduction in the amount of chemicals in the water (ammonia, metals and organic pollutants). And over 2,200 investigations have also been completed by the Environment Agency to improve the understanding of the remaining problems and what might be done to resolve them.
'Plans written by the Environment Agency set out actions which need to be taken to ensure that we continue to improve the water environment for people and wildlife even more. The water quality of our rivers, lakes and coasts has improved significantly over recent years, but there is much more that we can do. By commenting on the plans, you can play an important role in ensuring that our water environment continues to improve,' said Jeremy Bailey for the Environment Agency.
There are many ways you can respond to this consultation. You can respond to the consultation on line on our e-consultation web pages or by e-mailing your views by 10 April 2015 to SouthwestRBD@environment-agency.gov.uk or writing to:
Jeremy Bailey
Environment Agency
Manley House
Kestrel Way
Exeter
EX2 7LQ

Published 23 March 2015