Press release
New pioneering partnerships piloted to accelerate local infrastructure
Local infrastructure schemes are set to benefit from a new public-private partnership to get projects off the ground.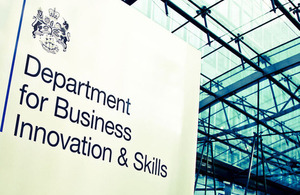 Local infrastructure schemes that have hit delays, preventing projects from unlocking local growth, are set to benefit from a new public-private partnership to get projects off the ground.
As part of the new Local Infrastructure Demonstrator Partnership pilots, leading private sector professionals are working for free alongside government partners to identify and overcome problems that have been hindering infrastructure projects that could otherwise be creating new jobs and growth.
Five areas will be involved in the pilots initially, in Blackpool, Grantham, Northamptonshire, Norwich and Swindon. The specialist support offered through the partnership should lead to each project moving forward more quickly than would have been the case without support. The private sector led teams comprise representatives from the Civil Engineering Contractors Association (CECA) and the Royal Town Planning Institute (RTPI) and Department for Business, Innovation and Skills (BIS), with other senior public and private sector partners also making significant contributions.
To develop the Partnership and ensure additional free specialist support is available, the Construction Industry Training Board (CITB) is providing funding through its Growth Fund.
Business Minister Michael Fallon said:
Making improvements to local infrastructure and unblocking new developments are vital for growth, and having free industry advice and support on hand can help get projects off the ground.
By bringing together the relevant experts face-to-face with the parties involved, solutions can often be found to problems and costly delays avoided. I would like to thank the private sector experts who are working on the projects on a pro bono basis.
CECA director of external affairs Alasdair Reisner said:
We know that building the new infrastructure that communities need is one of the most effective ways to create growth in the economy. Yet too often this potential is hindered by barriers that prevent projects starting on site. As representatives of industry it is essential that we work with our local clients, providing the support that they need to overcome these problems. By doing so we can play our part in rebuilding the health of the UK economy, while securing a positive future for our own industry.
RTPI President Dr Peter Geraghty said:
The RTPI is delighted to have brought planners' expertise to help unblock the stalled sites. We hope that the work not only benefits the communities in the five demonstrator areas, but serves as an example to other parts of the country with similarly delayed developments. It is not always easy but with willingness, determination and professional expertise it is possible to overcome seemingly intractable obstacles to deliver the infrastructure local areas need to grow sustainably.
CITB interim chief executive William Burton said:
This scheme is just what the industry needs. Infrastructure projects have suffered through the recession and this project has the potential to kick-start them back into action.
The CITB growth fund has helped to provide the backing to expand this project and that is its sole function - to ensure that the construction industry has the right people, with the right skills, in the right place, at the right time and is equipped to meet the future skills demands of the industry.
Phil Young, Director of Business Investment at Forward Swindon said:
The partnership has supported Swindon Borough Council in bringing real clarity to its plans for growth. We are looking forward to working further with BIS and those involved to develop our plans and bring them to fruition delivering significant housing and economic growth in Swindon.
Richard Doleman, Principal Infrastructure and Economic Growth Planner at Norfolk County Council said:
Thickthorn junction being chosen as a Local Infrastructure Demonstrator project has given us a great opportunity to progress the scheme. The partnership has provided an outside challenge to our approach and helped us explore a range of options for funding and delivery of the improvement.
Ian Achurch, Head of External Funding & Partnerships at Northamptonshire County Council, said:
We welcome engagement through the partnership. Unlocking major infrastructure is crucial to releasing economic growth. This needs to involve the public sector and development industry working more closely together and sharing risk in different ways.
Notes to Editors
The Local Infrastructure Pilots programme is a private-led partnership (comprising CECA, the RTPI, BIS and local project co-ordinators). The partnership aims to progress stalled local infrastructure projects with potential to release economic growth by resolving barriers to progress.

Multidisciplinary teams of experts (working on a pro-bono basis) nominated by the partnership have been invited by local authorities to assist a small number of local projects in the first wave: Blackpool Central; Grantham Bypass; Northampton Development (Daventry); Norwich Research Park; and Swindon (White Hart). York Central is also being considered as an additional pilot, and more work is being undertaken locally.

The partnership approach involves face-to-face interaction with local partners to uncover and understand barriers to progress. Typical barriers include local co-ordination and capacity issues as much as, or rather than, access to finance.

The Construction Industries Training Board (CITB) has agreed to support the expansion of the programme. Through the CITB Development Fund, training will be provided to create a larger team of individuals who will work with local bodies to identify and overcome the barriers they face in developing their infrastructure schemes.

CITB is sector skills council for construction. Through a levy on industry contractors, CITB funds a range of training activities for contractors. Included within this is the CITB Growth Fund, which supports training in activities including sustainability; collaborative working; productivity; management and leadership skills; modern methods of construction; and accessing new markets.

CECA made a bid to the CITB Growth Fund for support to create a team of ten new 'diagnosticians' to meet with local project developers under the Local Infrastructure Demonstrators Programme. CITB agreed to provide £88,000 to support the initiative between June 2013 and December 2014.

Diagnosticians will be trained how to identify barriers to delivery and be briefed on the range of solutions available to them. They will also receive training on legal issues associated with the role, and mentoring from existing diagnosticians. Once trained, these diagnosticians can then train up further people, helping to organically grow the initiative over time.

For information regarding the RTPI, please contact James Butler on 020 7929 8182 or james.butler@rtpi.org.uk

The government's economic policy objective is to achieve 'strong, sustainable and balanced growth that is more evenly shared across the country and between industries'. It set four ambitions in the 'Plan for Growth', published at Budget 2011:
to create the most competitive tax system in the G20
to make the UK the best place in Europe to start, finance and grow a business
to encourage investment and exports as a route to a more balanced economy
to create a more educated workforce that is the most flexible in Europe.
Work is underway across government to achieve these ambitions, including progress on more than 250 measures as part of the Growth Review. Developing an Industrial Strategy gives new impetus to this work by providing businesses, investors and the public with more clarity about the long-term direction in which the government wants the economy to travel.
Published 9 July 2013