Press release
New Permanent Secretary for the Home Office
Sir Gus O'Donnell, is pleased to announce the appointment of Dame Helen Ghosh as the new Permanent Secretary at the Home Office.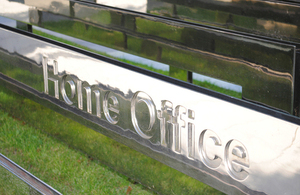 Dame Helen, who is currently the Permanent Secretary at the Department for Environment, Food and Rural Affairs (DEFRA), was chosen following an internal competition.
This follows Sir David Normington's announcement that he will be retiring at the end of the year. The appointment has been approved by the Prime Minister and by the Home Secretary, the Rt Hon Theresa May MP.
Dame Helen Ghosh will take up her post on 1 January 2011.
Gus O'Donnell quote
Cabinet Secretary, Sir Gus O'Donnell, said: 'I am delighted that Helen has been appointed as the new Permanent Secretary at the Home Office. She has an outstanding record of organisational leadership as Permanent Secretary at DEFRA, and from previous senior leadership roles at HM Revenue and Customs and Cabinet Office.  Her appointment will ensure the Home Office is very capably led through the significant changes ahead.
'I would also like to thank David Normington for his excellent leadership of the Home Office over recent years and for his outstanding record of public service during a highly distinguished career.'
Radical policy programme
Commenting on her new role, Dame Helen Ghosh said: 'I am very much looking forward to supporting the Home Secretary as she takes forward her radical policy programme, and to building on David Normington and his team's terrific work over the past few years to ensure that the Home Office has the capability to deliver.'
Home Secretary Theresa May said: 'I am delighted that Dame Helen Ghosh will be joining the Home Office as Permanent Secretary. She has a huge amount of experience in numerous departments across Whitehall and will, I am sure, make an invaluable contribution to the department as we deliver the vital reforms that are underway. I am very much looking forward to working with her.
'I would also like to thank Sir David Normington for the years of hard work, dedication and leadership he has given to the Home Office and I wish him well for the future.'
Notes to Editors
Dame Helen Ghosh took up her current post as Permanent Secretary for Department for Environment, Food and Rural Affairs (DEFRA) in November 2005. She successfully led Defra when the Department was dealing with a number of challenges such as difficulties at the Rural Payments Agency, avian flu and climate change pressures. She effectively delivered a major change programme to transform the Department, both in terms of significant improvements to its finance and its HR functions, and to introduce a radical new project-based operating model. Prior to Defra, she held a range of senior operational and policy roles in HMRC, DWP, Cabinet Office and was the Secretariat for the Machinery of Government, advising the Cabinet Secretary, No 10 and Government departments on a range of issues.

Sir David Normington has been permanent secretary at the Home Office since January 2006, having previously been Permanent Secretary at the Department for Education and Skills since 2001.  Before that he was Director General Schools, responsible between 1998 and 2001 for raising standards in schools.
His career began in the Department of Employment where he was responsible various programmes for trade union reform, for measures to reduce unemployment and for youth training.  He was Principal Private Secretary to Tom King, Secretary of State for Employment in 1983 and 1984.  He was also responsible for coordinating the efforts of central Government to regenerate the seven most deprived London Boroughs
In 1995, when the Department of Employment and Department for Education merged, he played a central role in the creation of the new Department for Education and Employment (DfEE).  From there he moved on to become DfEE's Director General of Strategy and Analytical Services and for the International Division in the run-up to the UK Presidency of the European Union.
Following an external competition, Sir David was recently been selected as the Government's preferred candidate for the appointment to the dual role of First Civil Service Commissioner and Commissioner for Public Appointments in succession to Dame Janet Paraskeva and Dame Janet Gaymer. His appointment will be formalised following final approval from Her Majesty the Queen.
Published 7 December 2010