New Permanent Secretary for Department for Education
Chris Wormald is appointed the new Permanent Secretary at the Department for Education.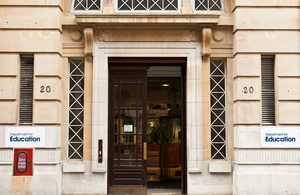 The Head of the Civil Service, Sir Bob Kerslake, is pleased to announce the appointment of Chris Wormald as the new Permanent Secretary at the Department for Education. Chris, who is currently the Director General for the Deputy Prime Minister's Office, was chosen following an open competition. This follows Sir David Bell's recent move to become Vice Chancellor at the University of Reading. The appointment has been approved by the Prime Minister and by the Secretary of State for the Department, the Rt Hon Michael Gove MP and following consultation with the Deputy Prime Minister.
Chris will take up his post at the end of March.
The Head of the Civil Service, Sir Bob Kerslake, said:
I am very pleased that Chris has been appointed to the role. He has an enthusiasm for educational improvement and a track record of reform from his earlier career in Education. He has demonstrated his ability to get things done in Whitehall and I'm confident that he will work effectively with both internal and external stakeholders to deliver on the Secretary of State's ambitions for Education.
Commenting on his new role, Chris said:
I am delighted to have been appointed to this role and I am looking forward immensely to working with the Secretary of State, the Ministerial team and the Department on delivering the Government's education priorities. Having spent the majority of my career in the Education Department, I know there is a wealth of dedication and talent within the Department and in the wider education sector. It will be a pleasure and a privilege for me to be working with colleagues both old and new on the full range of education issues.
The Secretary of State, Michael Gove, said:
I very much welcome the appointment of Chris Wormald to the Department for Education. Chris is a very talented senior Civil Servant, and he brings a wealth of experience from his work both in education policy and other parts of government. I am looking forward to working with him in his new role, and to welcoming him back to the Department.

I would like to pay tribute to Tom Jeffery, who has performed superbly in his role as Acting Permanent Secretary. I am grateful to Tom, and to the other members of the Board, for leading the Department strongly throughout this interim period, and for the support and advice they have offered to me and the Ministerial team. The Ministers and I are grateful for their leadership, and for the continuing hard work and commitment of the wider Department in delivering the Coalition's reform agenda.
DfE enquiries
Central newsdesk - for journalists 020 7783 8300
General enquiries - for members of the public 0370 000 2288
Published 29 February 2012