New Pension Tracing Service website launched
A new DWP website has been launched by the Pension Tracing Service to help people find their lost pension savings.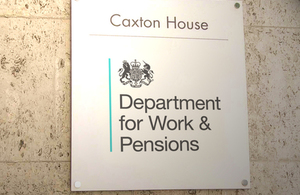 A new DWP website has been launched today by the Pension Tracing Service to help people more easily and quickly locate their lost pension savings.
There is currently an estimated £400 million in unclaimed pension savings. This is money people have previously saved for their retirement, and the new website will better help people to locate their hard-earned savings.
Our wider pension reforms are creating a dynamic market where people have greater freedom and flexibility over their savings, and we expect our reforms will increase demand for the Pension Tracing Service.
Minister for Pensions, Baroness Ros Altmann said:
People have had on average 11 jobs during their working life which can mean they have as many work place pensions to keep track of.

The new DWP online Pension Tracing Service helps reunite people with their lost pensions, giving details of providers to help people track them down.

I'd encourage anyone who thinks they may be missing out on any savings to use the free online service at www.gov.uk/find-pension-contact-details.
The new service is simple to use and provides trace results immediately. Individuals enter their former employers' details into the online database and are provided with contact details for pension schemes they may have paid into.
One user of the new website, Yvonne Mavin in London, used the service when planning for her retirement and was delighted to discover she had a £10,000 pension pot with Aviva. She said:
There was one employer who I worked for about 30 years ago and I knew I had a pension with them of some sort. But as it was so long ago, I had just lost track of it.

I used the Pension Tracing Service in early 2016 and within two weeks I managed to trace a £10,000 pension with Aviva.

I had actually put off trying to trace my pensions because I thought I would need lots of details. But when I got round to doing it I was shocked how easy it was.
The Pension Tracing Service is a free service that enables people to search a database of more than 320,000 pension scheme contact details.
More information
The new website has been tested with users with 83% either satisfied or very satisfied with the service they received.
There were 169,000 tracing requests in 2015/16 (this covers the online service, agent referred, telephony and postal channels). Over the past 10 years there has been a 436% increase in tracing requests.
Contact Press Office
Media enquiries for this press release: 020 3267 5124
Press Office
Caxton House
Tothill Street
London
SW1H 9NA
Follow DWP on:
Published 9 May 2016