New patrol vehicle further on the road to production
Plans to provide troops in Afghanistan with a new generation of Light Protected Patrol Vehicle (LPPV) have passed an important milestone with Force Protection Europe announced as the preferred bidder by the Ministry of Defence.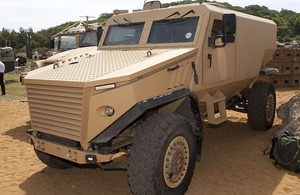 The selection of Force Protection Europe as the preferred bidder means contract negotiations will now begin to provide an initial order of LPPVs through the Urgent Operational Requirements process.
The first vehicles are expected to be available to troops for training in 2011. The total number will be subject to negotiation and announced in due course.
The LPPV has been designed to provide unprecedented levels of blast protection for a vehicle of its size, and will be able to carry a crew of up to six people. It will add to the wide array of protected vehicles already being used on operations in Afghanistan, including Mastiff and Ridgback.
Minister for Defence Equipment, Support and Technology, Peter Luff, said:
Small, agile but highly protected, the LPPV is at the forefront of technology. It will offer troops unprecedented levels of blast protection for such a light vehicle, enabling them to carry out a wide range of tasks, whilst moving with ease through narrow alleyways or crossing bridges.

It will be a valuable addition to the vehicles already available to commanders in Afghanistan, and demonstrates the Government's commitment to providing our troops with the very best equipment on the front line.

I'm delighted to announce that negotiations can now begin to get these vehicles out to theatre as soon as possible.
Chief of Defence Materiel, General Sir Kevin O'Donoghue, said:
A great deal of work has been done to get the programme to this stage. When it comes to vehicle technology, it is clear from this competition that British engineering is leading the way. Both proposed solutions reflect the significant progress made in the development of a new generation of small yet highly protected vehicles.

The LPPV will offer huge benefit to troops in Afghanistan, as well as being a valuable asset to the Armed Forces in the future.
Force Protection Europe has confirmed that, subject to the satisfactory completion of contractual negotiations with MOD, all of the vehicles will be built and supported in the UK. It is estimated that around 750 jobs will be created or sustained in the UK as a result of this programme.
Published 22 September 2010