World news story
New online passport application service in Ecuador
As from 9th January 2014, UK passport holders in Ecuador will have to apply or renew their passports via the new online service. This offers applicants an improved application process, simpler application form, the ability to pay online, and track the progress of your online application via your own personalised login.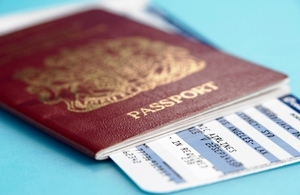 The online service will guide you through each stage of the application process according to your personal circumstances. It will provide full details of where to send the application, and which supporting documents are needed. You will then need to print off and sign parts of the application.
Payment must be made online – a range of credit and debit cards are accepted.
The online service will be accessible via this link: https://www.gov.uk/overseas-passports
How do customers access the OLC?
The OLC will be accessible via the GOV.UK website - https://www.gov.uk/overseas-passports.
Guide to the online application service: https://www.gov.uk/government/publications/help-completing-the-online-passport-application-from-outside-the-uk
What will the applicant do if they cannot access/have problems using the OLC?
The applicant should be advised to contact Passport Advice Line on +44 300 222 0000 or email: overseasNewportCCC@hmpo.gsi.gov.uk
Tracking an application?
Applicants will be given an individual username and password. They can use this to log back into the system to track their application once it has been submitted They will see one of the following options:
'awaiting information from the applicant'
'being processed'
'dispatched'
'please contact the Agency'
Are fast track and premium services available via the OLC?
No, the OLC only supports applications using the standard service
Are the processing times any different for online applications?
No, there are no changes to processing times for overseas customers as a result of the OLC
Can an applicant report their passport lost or stolen through OLC?
No, the arrangements for the reporting of Lost and Stolen passports are not directly affected by changes to the application process for full validity Passports.
However, applicants can apply for a replacement passport on line. They need to complete the on line application in the normal way. They need to access and complete the LSO1 form, print it off and forward on together with their declaration form and any other supporting documentation.
How many linked (family) applications can be submitted on line?
The applicant will be able to submit up to eight different applications in a single online session, with a single online payment.
Are applicants able to part complete, save and return to their OLC form?
Yes, the system will generate a user name and password and applicants will use this to return to their application, within 72 hours.
Further useful weblinks:
Published 18 February 2014
Last updated 20 February 2014
+ show all updates
Added translation
Added translation