News story
New non-executive board members announced
The Department for Culture, Media and Sport has today announced the appointment of two new non-executive board members.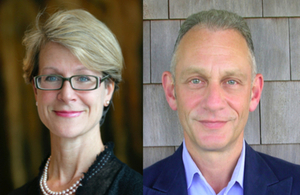 Fields Wicker-Miurin and Neil Mendoza have agreed to join the board following a public recruitment exercise. They will join Sir David Verey, lead non-executive board member, and Ajay Chowdhury.
Non-executive board members are senior figures from outside government, appointed to provide challenge to Government Departments. As set out in the Government's Code of Practice, non-executive board members should be appointed directly by the Secretary of State and are not civil servants. Their role is to:
Give advice to Ministers and officials on the operational and delivery implications of policy proposals
Provide independent support, guidance and challenge on the progress and implementation of the Department's strategic direction
Advise on performance and support the development of Key Performance Indicators to monitor implementation of the Single Departmental Plan.
Fields Wicker-Miurin OBE
Non-Executive Board Member & Audit and Risk Committee Chair
Fields Wicker-Miurin is a highly respected multidisciplinary leader with over thirty years' management and leadership experience. Fields has spent much of her career working in financial services, including as Director of Finance and Strategy at the London Stock Exchange. She is a partner at Leaders' Quest, an innovative, international social enterprise she helped establish in 2002 which works globally to improve the quality and impact of leaders from all sectors of society.
Fields has extensive experience as a non-executive director in both the public and private sectors, and currently serves on the main boards of the large global bank, BNP Paribas, Paris, and BILT Paper, India's largest pulp and writing paper company. She also has a long experience working with government, having previously served on the boards of the Ministry of Justice and BIS.
In addition to her career in business, Fields has been an active supporter of the visual and performing arts throughout her life, including serving as trustee of Tate Members, the London International Festival of Theatre, London Musici and Arts & Business.
Neil Mendoza
Non-Executive Board Member
Neil Mendoza started working life as a banker at JP Morgan in New York before moving to film finance. He co-founded the pioneering publishing agency, Forward, later sold to WPP. He has spent much of his career as an entrepreneur in a number of industry sectors including film, design, marketing and software. He is Chairman of Victoria Private Investment Office, an investment advisory firm. He is a publishing consultant to Patek Philippe.
Neil recently joined the board of Meira GTx, a new gene therapeutics company in New York. He is also Chairman of The Landmark Trust, a Commissioner at Historic England, Chairman of Children and the Arts and Vice-Chairman of Soho Theatre.
Additional information
A fair and open competition for the posts was conducted, with the recruitment and selection process overseen by Sir Ian Cheshire, the Government's lead non-executive.
Published 22 January 2016