New NHS and military trauma centre opens
A new joint NHS and military trauma and microbiology research centre which should improve the treatment of around 20,000 people who suffer major trauma each year has opened today. Report by Lorraine McBride.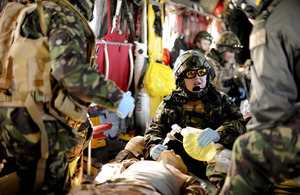 The new National Institute of Health Research (NIHR) Centre for Surgical Reconstruction and Microbiology opened today at the Queen Elizabeth Hospital Birmingham where all injured troops are treated after evacuation from Afghanistan.
The centre will bring both military and civilian trauma surgeons and scientists together to share innovation in medical research and advanced clinical practice in the battlefield to benefit all trauma patients in the NHS at an early stage of injury.
The new NIHR Centre will form a central point in England for trauma research where knowledge can be translated into real improvements in care for all NHS patients and beyond.
It will be the first and only research centre of its kind in the UK to focus both on military and civilian care and treatment.
The NIHR Centre will research complex trauma injuries including stemming blood loss, resuscitation, surgical care following severe injury and fighting wound-infection.
For every trauma fatality in England, there are two people left with severe and often permanent injuries. Now the landmark research centre will enable medical techniques deployed on the battlefield to be used on NHS patients.
The Department of Health, the MOD, University Hospitals Birmingham NHS Foundation Trust and the University of Birmingham are investing £20m in the centre.
The Surgeon General, Surgeon Vice Admiral Philip Raffaelli, said:
This is a hugely important initiative building on the strong partnership between the MOD and Department of Health.
The new centre will play a key role in building scientific evidence from injuries sustained in both military and civilian environments.
All our patients will benefit now and in the future as new treatments are developed and shared across the NHS and the military.
In England, trauma injuries account for three-quarters-of-a-million NHS hospital admissions and six million visits to A&E annually.
Professor Dame Sally Davies is keen that the NHS can learn from the British military for the benefit of all patients. She said:
If you put everyone together in one unit, they are much more likely to share ideas, spark off each other and move things forward.
This new centre will cover the patient's journey in terms of resuscitation, fighting infection and surgical reconstruction, and lay the foundations for rehabilitation.
It will bring together science researchers, surgeon-scientists, trainees, academics and medical students and hopes to boost surgical and microbiology research to stop bugs entering the body.
Dame Davies added:
Every new unit is exciting but this one is unique in the country and worldwide. We're putting together military expertise with NHS expertise backed up by a first-class university through research to make a difference to patients, making them better, learning lessons and sharing them.
My vision is that we will have more people whole walking around, with fewer lives lost, and those that are saved better off and more able to live a normal life.
Minister for Defence Personnel, Welfare and Veterans, Andrew Robathan, said:
The medics who work for our Armed Forces are recognised the world over for pioneering new advances in trauma care and quite rightly so. Those who have been injured defending their country deserve the very best standards of care.
I am proud that the MOD is investing £10m in the new NIHR Centre, which will allow us to develop new techniques to treat our soldiers fighting in Afghanistan and allow military surgeons to share our skills and knowledge with the NHS.
The £20m funding is broken down as follows:
£5m from the Department of Health over five years;
£10m from the Ministry of Defence over ten years; and
£5m from the University Hospitals Birmingham NHS Foundation Trust and University of Birmingham over five years.
Published 20 January 2011