New Navy recruits arrive at HMS Raleigh
64 budding sailors are the first recruits to arrive at HMS Raleigh this year to start their ten-week initial naval training course.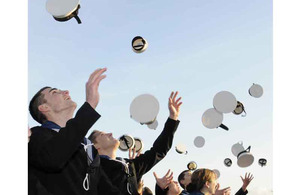 The arrival of the new recruits follows on from the first passing out parade of the year, held at the establishment on Friday 13 January 2012, when 45 recruits became the latest to successfully complete initial naval training.
They began their Royal Navy careers in October 2011 and were joined on parade by other recruits at varying stages of the course. Captain Mike McCartain, Flag Officer Sea Training Director South, inspected the passing out classes and took the salute during the march past.
In May 2011 an enhanced initial naval training course was introduced at HMS Raleigh. The course is underpinned by nine core maritime skills that are the foundations of naval life and the basis of operational effectiveness. This financial year HMS Raleigh is due to provide training for 1,200 new recruits.
Among the new recruits starting the course this week was Trainee Medical Assistant Laura Thurlow, a former Royal Naval Reservist previously attached to the Plymouth-based unit HMS Vivid.
Her father John is an ex-Royal Marine, while her brother Michael is a serving member of the Royal Marines. The 24-year-old said:
Being in the reserves made me want to join the regulars and also, coming from a military family, I wanted to be part of the club. I'm looking forward to the challenge of becoming a medic and finding out where I will be posted.
I'm also keen to experience the sporting opportunities open to us, and the camaraderie with new friends. For the next ten weeks I will be focusing on the passing out parade before my family. It's daunting, but I think it's going to be an exciting time.
Trainee Writer Hazel Brittain was another of the new recruits. She is also following in the footsteps of her father, Steve, who is an ex-Royal Navy physical training instructor. He and his wife, Gail, both now work at HMS Raleigh in civilian roles. Trainee Writer Brittain said:
Since leaving school I've done a lot of travelling and a number of jobs, including a wedding event planner. I lived in South Africa for a while and in Ireland, but now I want to settle down to a career.
I'm looking forward to the challenges of the next ten weeks, facing everything the instructors throw at us, while my fitness progresses. With mum and dad both working here, there are lots of familiar faces. My dad used to be my divisional officer's physical training instructor.
I'm quite headstrong and determined when I put my mind to something, so I'm going to take each day as it comes. I'm looking forward to seeing my family and friends again when I'm on parade at the end of the course.
HMS Raleigh in Torpoint is where all new rating recruits to the Service undergo their ten-week basic training course. The course teaches recruits the basic skills they will require throughout their time in the Royal Navy.
It includes a series of mental and physical challenges to develop the Royal Navy's core values of commitment, courage, discipline, respect, integrity and loyalty. The establishment also conducts specialist training, delivering seamanship, submarine operations, logistics, and board and search skills.
Published 18 January 2012