New national Falklands memorial unveiled
A new national Falklands memorial was unveiled at the National Memorial Arboretum in Staffordshire yesterday in the presence of hundreds of serving Armed Forces personnel and veterans.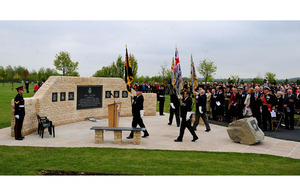 Initiated by the South Atlantic Medal Association 1982, the Falklands memorial has been built to honour the Task Force and remember the 255 UK servicemen and merchant seamen who gave their lives in the Falklands conflict and to inform visitors of this important event in history.
The distinctive memorial has been designed to reflect the Falklands' landscape and echoes the commemorative wall at the Islands' San Carlos Cemetery. It is intended to create a restful space for contemplation by visitors and incorporates a seven-foot-high (2m) curved wall of rugged Cotswold stone facing a rock from the Falklands. It also features two granite benches and a number of granite plaques, including one on which the names of three Falkland Islanders who lost their lives are engraved.
Yesterday's unveiling ceremony was attended by hundreds of current and ex-Service personnel and their families and ended with a flypast by a Vulcan bomber and three military helicopters.
The Vulcan was flown by Flight Lieutenant Martin Withers DFC, the pilot who led the famous Black Buck 1 raid on Port Stanley's runway.
Among those who attended the service to dedicate the memorial was the widow of Lieutenant Colonel Herbert 'H' Jones, who was awarded a posthumous Victoria Cross for his bravery at the Battle of Goose Green, and Kathryn Nutbeem, whose father was among 56 men who died when troop-carrying vessels were bombed by Argentine jets.
The official dedication, which was also attended by the Band of Her Majesty's Royal Marines Portsmouth, also marked the 30th anniversary of the Falklands Task Force's landings on the Islands.
Speaking after the ceremony, Lieutenant Colonel Jones' widow, Sara, described the memorial as a fitting tribute to the members of the Task Force who gave their lives. Mrs Jones, chairman of the Falkland Families Association, said:
I think it's just very important for our families to have somewhere that they can go which is special for them. Obviously there are other places but this has been dedicated not only for all of the Task Force, but for our families.
I just think for them it's special to come to this wonderful place - it is a beautiful setting and they can be quiet and contemplate and remember. I know it's 30 years on but it's been worth waiting for. It was a lovely short service and that Vulcan coming over was a wonderful ending.
Ms Nutbeem, who sang a solo during the service, was aged five when her father, Major Roger Nutbeem, was killed while serving with the Royal Army Medical Corps on board the Royal Fleet Auxiliary vessel Sir Galahad.
Now aged 35, Ms Nutbeem, from Clapham, London, sang 'Somewhere Along the Road' in memory of her father. Prior to the dedication she said:
I just think so many people lost their sons and their husbands and they don't have a grave to go to. The surroundings here are beautiful and you can come here and get a real sense of peace. My father sang and I sing, and that's very important to me.
Published 21 May 2012