Press release
New National Democracy Week to focus on underrepresented groups
A new annual week of action which will put the spotlight on democracy and boost participation is to be launched by the government.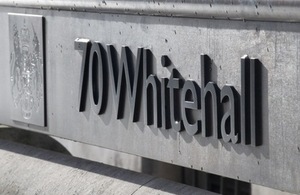 The inaugural National Democracy Week will be held in summer 2018, Chris Skidmore, the Minister for the Constitution, announced today.
It will be themed on the Suffrage Centenary, as we celebrate two significant anniversaries next year - 100 years since women won the right to vote and 90 years since women won equal voting rights to men.
Making the announcement, Minister Skidmore told the Cabinet Office International Democracy Day celebration that the pursuit of democratic participation, particularly among under represented groups, must be a continuous goal.
Next year's event, to be held between 2-6 July, will bring together organisations from across the public, private and charity sectors for a week of unified national action.
The aim is to engage with under registered groups, better understand the barriers they face, and work with partners to ensure that every member of society who is entitled to do so has an equal chance to participate in our democracy and to have their say.
Minister for the Constitution, Chris Skidmore said:
This Government is committed to building a flourishing, inclusive democracy that works for everyone.

I want as many people as possible to engage in our democracy which does not begin and end with an electoral event.

That is why I'm delighted to announce that we are introducing an annual National Democracy Week to help boost democratic participation amongst under registered groups in our society.
Matthew Harrison, Royal Mencap Society, said:
People with a learning disability have a huge appetite for politics yet often struggle to feel part of the democratic process. We welcome the announcement of National Democracy Week and this recognition by Government that action is needed to better understand the barriers that can too often prevent people with a learning disability from participating fully in democracy.
Katie Ghose, Chief Executive of Women's Aid, said:
For too long survivors of domestic abuse have been silenced because it was too dangerous for them to sign up to an electoral register, which would reveal their location, and too difficult for them to register anonymously.

Following our Right to Vote campaign, we worked with the Government to bring about decisive action on this issue. The new measures have sent out a clear message to all survivors of domestic abuse: that their voices matter, and their right to vote should never be taken away.

The Cabinet Office's announcement that next year there will be a National Democracy Week to raise awareness of the barriers some people may face when it comes to voting is a welcome step in giving all eligible voters, especially survivors of domestic abuse, an equal right to have their say.
National Democracy Week events in 2018 will take place on a national and local level to reach under-registered groups including young people, black and minority ethnic backgrounds, British ex-pats,and people with disabilities, to ensure Britain has a democracy which works for everyone.
Published 15 September 2017