Press release
New motorcycle helmet ratings on new website
New SHARP website gives motorcyclists best advice on choosing a helmet.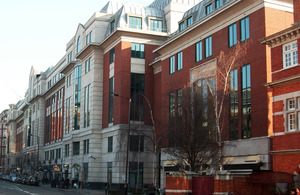 New safety ratings for motorcycle helmets were announced today (27 May 2010) by Road Safety Minister, Mike Penning, as he unveiled a new website to give motorcyclists the best advice and information on choosing a helmet.
An extra 27 motorcycle helmets have been rated by SHARP - the Department for Transport's Safety Helmet Assessment and Rating Programme - taking the total number of ratings published past the 200 mark.
All these ratings are today (27 May 2010) published on the new SHARP website which has been overhauled to include more information for motorcyclists on how to find the right helmet for them. The site also includes demonstrations of how the SHARP tests are carried out and how to make sure a helmet fits properly.
In addition, new in-store information leaflets are being made available for retailers to give them and their customers more information about the SHARP scheme.
Mike Penning said:
We estimate that 50 deaths could be prevented each year if all riders wore the safest helmets available. That is why I am delighted to be announcing additional SHARP ratings today at the same time as the new and improved SHARP website is launched.

By making sure that motorcyclists have access to the best safety information, promoting further training and safe riding, and reminding drivers to look out for bikers I hope that we can improve safety for motorcyclists and reduce the number of tragedies we see on the roads each year.
All helmets must meet minimum legal safety standards but the SHARP scheme uses a wider range of tests to provide riders with more information on how much protection a helmet can provide in a crash. The objective advice, which includes important guidance on how to select a good fitting helmet, will help riders to choose the safest helmet suitable for them. The SHARP tests - which award ratings of between 1 and 5 stars - show that the safety performance of helmets can vary by as much as 70%. With helmets across a wide price range scoring highly all riders should be able to find a high performing helmet in a size and style that fits them and at a price they want to pay.
The new website was developed in response to feedback from consumers and the motorcycle industry and SHARP is inviting motorcyclists to continue giving feedback on the new site so that it best meets their needs.
The new SHARP website is available.
Notes to editors
Motorcyclists represent approximately 1% of UK traffic yet account for 19% of our casualty base; 493 motorcyclists died on UK roads in 2008. Accident studies show that approximately 80% of motorcyclists killed and 70% of those with serious injuries sustain head injuries.
Roads media enquiries
Media enquiries 020 7944 3021
Out of hours media enquiries 020 7944 4292
Switchboard 0300 330 3000
Published 27 May 2010