New mothers are anxious about breastfeeding in public
A new Start4Life poll shows many new mothers feel uncomfortable about breastfeeding in public, despite broad public support.
This news article was withdrawn on
This press release has been withdrawn because it's over 4 years old. See PHE's latest news.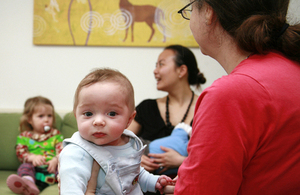 The poll shows shows that more than a third of breastfeeding mothers shy away from doing so in public, with 1 in 5 (21%) feeling people do not want them to breastfeed in public.
Start4Life, Public Health England's parenting advice service today (2 November 2015) released these findings to raise awareness of the issue, alongside the launch of new animated short films supporting the campaign for breastfeeding in public. The short films share real life experiences of mothers breastfeeding in public, to help break down the barriers and stigma that prevent many mothers doing so themselves.
It is illegal to ask a breastfeeding woman to leave a public place and the Start4Life poll shows 72% of people support public breastfeeding. Yet despite this, 6 out of 10 mothers who breastfeed take steps to hide it in public and more than a third (34%) feel embarrassed or uncomfortable.
Breast milk has a positive impact on both baby's and mother's health. It provides babies with the nutrients they need to make the best start in life, protecting from infection and disease and is associated with a reduced risk of becoming overweight or obese as they grow older. Breastfed babies are also less likely to suffer from vomiting and diarrhoea and having to go to hospital as a result. For mothers, breastfeeding may lower the risk of getting breast and ovarian cancer.
However, while 74% of women start breastfeeding their children from birth, only 47% are still doing so 6 to 8 weeks later. In the Start4Life poll, 1 in 10 of women who chose not to breastfeed said the worry of doing so in public influenced their decision.
To help women feel more comfortable breastfeeding in public, the Start4Life campaign offers tips from mums and experts on breastfeeding, as well as additional information and links to resources offering support to breastfeeding mothers. The new videos will be shared via the Start4Life Facebook page.
Dr Ann Hoskins, Deputy Director, Health and Wellbeing, Healthy People at Public Health England said:
Breastfeeding gives babies the best start in life, and it comes with a whole host of benefits for the mother too. Anxiety about breastfeeding in public certainly shouldn't be a barrier to breastfeeding in general.

One of the great benefits of breastfeeding is that it can be done anytime and anywhere, so as a society we need to help new mothers feel comfortable in feeding their babies wherever and whenever they need to, and we all have a role to play in that.
The Start4Life information service polled 2,393 UK adults as part of this research. Other findings include:
48% agree women should always feel comfortable breastfeeding in public
44% agree it is acceptable to breastfeed anywhere
only 57% felt restaurants were an acceptable venue for breastfeeding
51% felt breastfeeding on public transport was acceptable
The last 2 points in particular show that, while the majority of people believe breastfeeding in public is acceptable, there is more to be done to make it more accepted and welcomed by all.
Dr Gill Thomson, from the Maternal and Infant Nutrition and Nurture Unit at the University of Central Lancashire says:
Worries about stigma and embarrassment around breastfeeding can lead to some women feeling unable or unwilling to breastfeed in public. This can lead to isolation and some women stopping breastfeeding before they intended to.

Breastfeeding is the most natural, healthy, best start a mother can provide for her infant. While legislation is in place to support public breastfeeding, more needs to be done to address the negative cultural attitudes that can undermine this choice.
Natalie MacGregor, a mother whose story was used to create one of the short videos said:
When I first tried breastfeeding in public, I was really self-conscious and used to cover myself up with a huge spotted cover, which drew far more attention than the breastfeeding itself!

It took until the birth of my second son to realise that I had nothing to be embarrassed about, and I just wish that I realised this earlier.
The new video content will be published on the Start4Life Facebook page. Further week-by-week advice for parents is available via Start4Life's Information Service for Parents. The service offers the best place for NHS approved information and advice directly to those seeking guidance, helping parents-to-be and parents of 0 to 5 year olds get their child off to the best start in life.
For more information about breastfeeding visit the Start4Life website.
Background
Start4Life's Information Service for Parents and Start4Life website offers NHS approved information and advice directly to parents-to-be and parents of 0 to 5 year olds providing them with the advice they need to help get their child off to the best start in life.

TNS research carried out with 2,393 UK adults September to October 2015.

Public Health England exists to protect and improve the nation's health and wellbeing, and reduce health inequalities. It does this through world-class science, knowledge and intelligence, advocacy, partnerships and the delivery of specialist public health services. PHE is an operationally autonomous executive agency of the Department of Health. Website: www.gov.uk/phe. Twitter: @PHE_uk, Facebook: www.facebook.com/PublicHealthEngland
Published 2 November 2015