Press release
New Minister meets Dstl staff at Porton Down
The new Minister for Defence Procurement has been visiting the Defence Science and Technology Laboratory (Dstl) at Porton Down.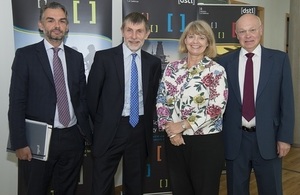 Just a month after starting her role, Harriett Baldwin MP came to see first-hand the world-leading science and technology carried out at the site.
Mrs Baldwin, formerly the Economic Secretary to the Treasury, took over from Philip Dunne MP in Prime Minister Theresa May's reshuffle.
She came to Dstl to see the breadth of work carried out by the organisation, including cyber defence, protecting aircraft and support to policy making. This included how Dstl scientists had worked to help inform the decision in the past few weeks to lift the ban on women serving in front line ground close combat roles.
The Minister praised the work of staff at Dstl: "While I have only been able to see a fraction of the work carried out at Dstl today, it has reaffirmed my belief in the importance of science and technology for the defence and security of the UK. From ways to protect our Armed Forces, to counter-terrorism support, and to the innovative technologies of the future, Dstl has a vital role to play."
Dstl Chief Executive Jonathan Lyle said: "As we mark 100 years of defence science at Porton Down, it has been a pleasure to show the Minister some of the ground breaking research that we do and the vital role it plays in keeping our Armed Forces and the British public safe. I look forward to working with our new Minister to deliver the Government's priorities for defence science and technology."
Published 25 August 2016