News story
New Minister for Reserves visits commando engineer reservists
Julian Brazier meets reservists to find out why they wanted to join 131 Commando.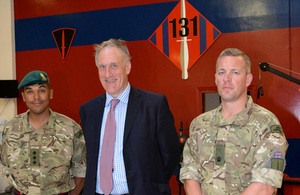 Julian Brazier completed his first visit to a reserve unit in his newly-appointed role as Minister for Reserves. Visiting Army Reserve unit 131 Independent Commando Squadron Royal Engineers at their headquarters in Kingsbury, Mr Brazier wanted to see how best practice recruiting and retention efforts are contributing to the growth of the unit.
Formerly a reservist with the airborne and special forces himself, the minister met a number of reservists and spoke to applicants who were in the process of joining the squadron to find out what had attracted them to 131 Commando.
He was particularly interested in finding out how unit members have mentored them throughout the enlistment process and what their expectations were for the future.
Continuing to work closely with their paired regular unit, 24 Commando Engineer Regiment, will continue to be one way in which the squadron helps deliver the vision of the future Army Reserve. And with a growth of 18% in the last 6 months, the squadron is proving that life as a reservist is a challenging and an exciting one.
Warrant Officer Class 2 Stuart Jordan, a civil engineer working for Arup, is a reservist in 131 Commando. He said:
131 has been part of 3 Commando Brigade Royal Marines since 1978, so operating and exercising even more closely with the regulars continues a process we've been modelling for a long time. The blokes are really proud of the role and we've had over 200 of them mobilise for operations over the last few years.
Officer Commanding Major Mark Normile, a regular officer, added:
The squadron also has reservists mobilised under the navy's vanguard scheme at the moment, providing commando engineers at very high readiness as part of 24 Commando's contribution to the Lead Commando Group.

Our soldiers join for the significant challenge which service with 3 Commando Brigade offers, so we need to keep offering exciting and challenging opportunities for us to maintain our levels of recruiting.
The UK reserve forces play a vital part in our nation's defence. Find out how you can get involved and what is on offer for reserves.
Published 23 July 2014