News story
New members sought for the British Pharmacopoeia Commission
The British Pharmacopoeia Commission is seeking to appoint 8 new members (6 professional members and 2 lay members).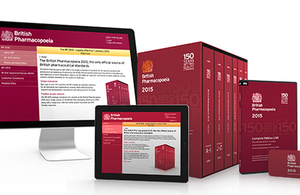 The Secretary of State for Health is seeking to appoint 8 members to the British Pharmacopoeia Commission (BPC). The appointments will be for a 4-year term.
BPC is responsible for preparing new editions of the British Pharmacopoeia, the British Pharmacopoeia (Veterinary) and the British Approved Names publication. It also advises the United Kingdom delegation to the European Pharmacopoeia Commission, of which the UK is a member state.
If you are interested in becoming a member, further information including how to apply is available on the Centre for Public Appointments website.
The deadline for submitting completed applications is midday on 1 September 2015.
Published 20 July 2015