New Lynx helicopters boost air support in Afghanistan
Upgraded Army Lynx Mk9A helicopters have arrived for use in Afghanistan after being shipped from the UK, and are already being put to good use.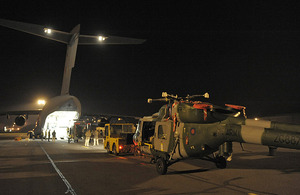 The Lynx Mk9As, with their increased fire power, more powerful engines, and the ability to operate all year in the harsh 'hot and high' Afghan environment, have increased the total number of flying hours available to commanders.
The stripped-down helicopters were transported by C-17 Globemaster aircraft from RAF Brize Norton to Camp Bastion in Afghanistan.
There, the rotor blades were fitted and familiarisation flights took place before operational sorties began in earnest earlier this month.
The Lynx Mk9A is fitted with a more advanced communication system, improved surveillance equipment and the M3M machine gun - a 0.50-calibre weapon capable of firing over 850 rounds per minute.
The new helicopters are already performing a wide range of front line tasks, including convoy overwatch, support helicopter escort, reconnaissance and surveillance, and the movement of forces.
Major Max Lytle, Army Air Corps, Officer Commanding 672 Squadron, said:
We are now in Afghanistan, playing an important role in protecting our ground forces and carrying out surveillance, boosting performance in Afghanistan's challenging conditions.
The upgraded Lynx joins the other aircraft in Joint Helicopter Force (Afghanistan) [JHF(A)], commanded from Camp Bastion. This Force comprises helicopters from all three Services operating to support the multinational coalition effort, including Chinooks, Merlins, Apaches and Sea Kings.
The Commanding Officer of JHF(A), Wing Commander 'Spats' Paterson RAF, said:
I am delighted to see these highly capable aircraft arrive in theatre. They are an extremely valuable addition to the UK helicopter force and the modifications they carry make them an extremely effective platform.
Army aircrews undertook extensive pre-deployment flight training on the new aircraft in Kenya to gain flying experience in similar 'hot and high' conditions before the start of their first operational tours in the Lynx Mk9A.
Published 25 May 2010