New Lords minister at Home Office
Baroness Browning today stepped down as minister of state for crime prevention and anti-social behaviour reduction on health grounds.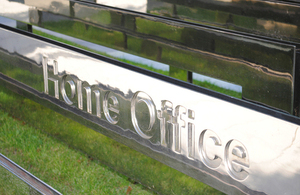 Read the press notice on the Number Ten website.
Lord Henley is a Conservative party peer and has joined the Home Office ministerial team from DEFRA.  He entered the House of Lords in 1977 and has held a number of front bench positions both in Government under Margaret Thatcher and John Major as well as in Opposition.
In his new role as minister for crime prevention and anti-social behaviour reduction, Lord Henley's brief will include the drugs strategy, licensing and community activism.  He will also lead all Home Office business in the House of Lords.
Home Secretary Theresa May said:
'I want to thank Baroness Browning for her contribution to Government.  In her time at the Home Office she has taken forward work to help prevent crime and reduce anti-social behaviour in our communities and has played a vital role in taking our plans to reform policing and give greater accountability to the public through the Lords. I wish her the very best for the future.
'I'm pleased to welcome Lord Henley to the Home Office and look forward to working with him to deliver our key priorities.'
All other ministerial responsibilities at the Home Office remain the same.
Published 16 September 2011