World news story
British Council to launch new libraries to enhance UK-Pakistan relationship
After significant public demand in Pakistan, the British Council aims to rebuild and revolutionise its library offer to provide a 21st Century experience to students and professionals.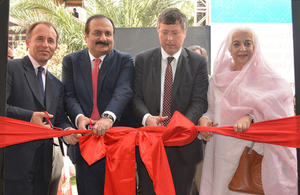 The British Council today launched a new network of libraries across Pakistan at the inaugural ceremony of a new, purpose-built library in Lahore.
The libraries project is intended to foster creative expression and building greater cultural links between the UK and Pakistan.
After significant public demand in Pakistan, the British Council aims to rebuild and revolutionise its library offer to provide a 21st Century experience to students and professionals. Library members will gain access to special events held in the libraries, as the British Council aspires to generate ideas, discussion and bring people and communities together in a safe cultural setting.
The Lahore opening will be followed by a second library opening in Karachi, with an accompanying digital partnership to enable Pakistanis to access a vast catalogue of contemporary UK journalism, publications, films and music.
Security concerns in 2001 forced the closure of British Council libraries in Pakistan that for almost fifty years had played a highly valued role in supporting Pakistani learning and cultural expression.
Sharmeen Obaid-Chinoy, two-time Oscar winning Pakistani film-maker and journalist, said:
One of my favourite memories of growing up in Karachi was the British Council library. There was a certain magic about going; there were books from all over the world, and I would be excited to see what book I would find that week. I was very sad when the British Council library stopped and I always felt it was a part of my childhood that I would want to have again. I'm so excited to hear that now my girls who are growing up in the city will have access to the same adventures, the same world, the same magic that I did once the British Council opens its library.
Through the new Lahore and Karachi libraries, together with partner and virtual libraries the British Council aims to redefine the library experience in Pakistan, by reinventing physical walk-in spaces, giving members access to a series of curated events and exhibitions, and providing a digital library resource that will bring the very best of UK and Pakistan content to people across the country.
The opening ceremony was attended by Sir Ciarán Devane, Chief Executive British Council, the British High Commissioner to Pakistan Thomas Drew, Rana Mashhood Ahmad Khan, Minister for Schools, Government of Punjab, Zakia Shahnawaz, Minister for Higher Education and high level dignitaries from the provincial and federal government.
Speaking at the signing ceremony, Sir Ciaran Devane, CEO, the British Council said:
The British Council's purpose is to create a basis of friendly knowledge and understanding between the people of the UK and the wider world. Our libraries played a vital role towards this aim in the 20th century, and I am delighted to open this new library today, fit for the 21st century. By sharing UK with Pakistan our libraries will become hubs where an exchange of creativity, connectivity and ideas can take place.
Minister Rana Mashhood Ahmad Khan, stated:
Throughout history Lahore has been the hub for dialogue and creative expression with landmarks such as the Pakistan Tea House; where ideas have flowed freely. It is an immense to be launching the British Council's library in Lahore that aim to become convening spaces for the youth of Pakistan.

We are also extremely delighted to strengthen our existing relationship with British Council in Pakistan by finding synergies for British Council to support the government of Punjab in its digital library ambitions across the province.
British High Commissioner, Thomas Drew CMG said:
The British Council Libraries have a fabulous legacy in Pakistan. Many people in Pakistan have fond memories of immersing themselves in English language writing in the past. I am therefore delighted to be here to see the reopening of the new, improved British Council library in Lahore.

The new libraries in Lahore and Karachi, and the national digital library, will not just offer English language books and material in print and online, but will also strengthen the human relationship between our two countries and offer a space for cultural debate. They will be a great asset for Lahore, for Karachi and indeed the whole of Pakistan.
Notes for the editors:
British Council staff are available for interview.
Photos available on request.
The British Council's library in Lahore is now open, the British Council library in Karachi will open in July 2016
For more information about membership please visit here
About the British Council
The British Council is the UK's international organisation for cultural relations and educational opportunities. We create international opportunities for the people of the UK and other countries and build trust between them worldwide.
We work in more than 100 countries and our 8,000 staff – including 2,000 teachers – work with thousands of professionals and policy makers and millions of young people every year by teaching English, sharing the arts and delivering education and society programmes.
We are a UK charity governed by Royal Charter. A core publicly-funded grant provides 16 per cent of our turnover which last year was £973 million. The rest of our revenues are earned from services which customers around the world pay for, such as English classes and taking UK examinations, and also through education and development contracts and from partnerships with public and private organisations. All our work is in pursuit of our charitable purpose and supports prosperity and security for the UK and globally.
For more information, please visit: British Council's website. You can also keep in touch with the British Council through twitter and blogs.
Published 6 June 2016