New Lead Non-Executive for Defence appointed
Secretary of State for Defence Dr Liam Fox has today announced the appointment of Mr Gerry Grimstone, the Chairman of Standard Life plc, as the new Lead Non-Executive for Defence.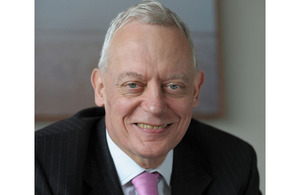 Mr Grimstone has had a distinguished career in both the public and private sectors for nearly 40 years.
He has already worked closely with the MOD over a number of years, most notably as a non-executive director at Air Command, during his 2010 independent review of the way civilians are employed in Defence, and most recently as a member of the Defence Reform Steering Group which reported to the Defence Secretary in June this year.
As the lead non-executive board member Mr Grimstone will become a key member of the new Defence Board.
As well as providing an independent and objective perspective on Board business in the way that Non-Executives always have, he will work closely with the Defence Secretary, the Permanent Secretary and the other members of the Board to ensure that it provides clear and effective leadership for the Department.
The Lead Non-Executive will also take an active role in assessing and improving the Board's performance. He will lead the Non-Executive team and he will have a direct line of access to the Government's Lead Non-Executive (Lord Browne). All of this is aimed at ensuring good practice and strengthening corporate leadership across government.
Dr Fox said:
I am delighted to welcome Gerry to this appointment. His extensive knowledge of how the MOD operates combined with his renowned business acumen will, I am sure, enable him to make a valuable contribution to the Department's business.
Mr Grimstone said:
I'm delighted to be appointed as the lead non-executive member of the Defence Board. This is a genuinely exciting challenge in a period of great change. I know the Department well and recognise the important contribution its people make.
It is a privilege to be asked to apply the skills and knowledge and experience I have developed in both the private and public sectors to contribute to the MOD's future success.
Published 20 September 2011