News story
New law helps businesses protect their IP rights
The change will encourage more businesses to protect their intellectual property and enforce their rights. Evidence presented to the recent …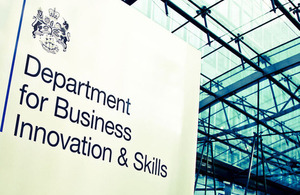 The change will encourage more businesses to protect their intellectual property and enforce their rights. Evidence presented to the recent _Hargreaves Review of Intellectual Property and Growth _indicated that small and medium sized firms are dissuaded from enforcing IP rights because of the fear of high court costs.
A new damages cap of £500,000 for all claims in the PCC means small companies claiming damages up to that amount are less likely to face a potentially more expensive trip to the High Court.
Minister for Intellectual Property, Baroness Wilcox said:
"A more accessible justice system will give companies greater incentive to protect and enforce their intellectual property rights. Making it easier for small firms and entrepreneurs to use the legal processes will give them more time to concentrate on business activities, innovate and support economic growth.
"These changes provide clarity on the legal processes, certainty over the risks and give small enterprises the confidence to stand on an equal footing with financially stronger companies."
Previously, a business with a legal case worth less than £500,000 could face litigation in either court with unknown levels of financial risk. An earlier Order, which came into force on 14 June 2011, had set the same limit in relation to patents and design cases.
The change in law will ensure that lower value, less complex cases, which would typically involve small businesses, will automatically fall within the jurisdiction of the PCC which has a less costly and more streamlined process. Therefore the risk of expensive disputes over where the case should be heard will be reduced.
In the past some companies were put off protecting their rights due to the uncertainty of how much it would cost. Supporting evidence to the _Hargreaves Review of Intellectual Property and Growth _highlighted that around one in five (17 per cent) of small and medium sized businesses had given up attempting to enforce their rights.
Support for a limit was expressed by small and medium sized businesses during a full public consultation on the reform of the PCC. The effectiveness of the damages cap will be monitored with a formal review in 2014.
Notes to editors
The Intellectual Property Office (IPO) is within the Department for Business, Innovation, and Skills (BIS) and is responsible for the national framework of Intellectual Property rights, comprising patents, designs, trade marks and copyright.

Its role is to help manage an IP system that encourages innovation and creativity, balances the needs of consumers and users, promotes strong and competitive markets and is the foundation of the knowledge-based economy.

It operates in a national and an international environment and its work is governed by national and international law, including various international treaties relating to Intellectual Property (IP) to which the United Kingdom is a party.

The Patents County Court (Financial Limits) Order (No. 2) 2011 came into force on 1 October.

This negative resolution Order, laid under the Courts and Legal Services Act introduced a £500,000 limit to the value of a broad range of IP claims, including copyright and trade mark claims, which may be heard in the Patents County Court.

The earlier Patents County Court (Financial Limit) Order 2011 became law on 14 June 2011 through section 288(5) of the Copyright, Designs and Patents Act 1988 and introduced the limit in relation to patents and design claims. As required, that Order had been debated in the House of Lords on 28 March 2011 and in the House of Commons on 3 May 2011.

The limits were implemented following a report by Lord Justice Jackson in his review of Civil Litigation Costs on 14 January 2010. One of the proposals was to reform the Patents County Court.

The Central London County Court is designated as a Patents County Court.

The limit does not remove existing options for any SME, which includes filing a claim in the High Court. Implementation adds further possibilities to any potential IP litigation strategy for all SMEs including those in the high tech business sectors. With the exception of point 3 below, which is already available, the following scenarios will be possible once the relevant measure comes in to force:
A claimant may abandon any excess claim above the limit of damages; in which case a Patents County Court shall have jurisdiction to hear and determine the action, but the claimant may not recover more than that amount (CDPA s288(2)).
If the parties agree that a Patents County Court shall have jurisdiction in any proceedings, that court shall have jurisdiction to hear and determine the proceedings notwithstanding any limit imposed under section 288 (CDPA s288(4)).
A claimant may still seek to have the case heard under the Streamlined Procedure (Patents Court Guide para 8.6) in the Patents (High) Court.
Notes to Editors
Contact Information
Name BIS Press Office Job Title
Division COI Phone
Fax
Mobile
Email NDS.BIS@coi.gsi.gov.uk
Name Dan Palmer Job Title
Division Department for Business, Innovation and Skills Phone 020 7215 5303 Fax
Mobile
Published 1 October 2011