New Land Forces HQ fully operational
The new headquarters for the British Army's Land Forces in Andover has been officially declared fully operational by Minister for the Armed Forces, Nick Harvey, and the Commander-in-Chief Land Forces, General Sir Peter Wall.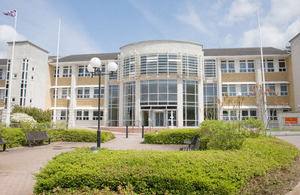 General Wall and Mr Harvey visited the new facilities yesterday, Thursday 9 September, to view the work done and officially announce the complex open. General Wall said:
This is the place where the British Army of the future will be shaped for decades to come.
Land Forces was formed on 1 April 2008 when Land Command and the Adjutant General's Command combined, and just over 2,000 military and civilian personnel are now working at the refurbished site which was previously occupied by members of the Defence Equipment and Support organisation.
Staff for the new headquarters moved in between May and July this year, primarily from Wilton just outside Salisbury and Upavon on Salisbury Plain.
Combining the two headquarters was a cost-effective move to improve the ability to provide the military capability to conduct and support operations, with less duplication of staff work, more efficient ways of working, and improved internal communication.
The new headquarters' buildings, which cost £44m, provide a modern working environment that is more efficient, economical and environmentally friendly, with open plan offices, a gym, cafes, shops and landscaped gardens.
Mr Harvey said the new HQ would pay for itself in the next eight years with the sale of the Wilton site and cost savings:
This amalgamation is really the shape of things to come," he said. "Making things leaner and fitter but also improving effectiveness and giving people a better environment to work in.
Change is never without pain, but I am keen to drive down running costs and this achievement at Andover shows that can be done.
The site, also a former RAF station, has been renamed Marlborough Lines in honour of John Churchill, the 1st Duke of Marlborough, who has been described as Britain's greatest-ever general.
Office buildings have been named Blenheim, Ramillies and Sedgemoor after the Duke's battles and the garden outside Blenheim is called the Churchill Garden.
Published 10 September 2010