World news story
New international enquiry service launched for UK visa customers in Pakistan
From 1 April 2014, UK visa customers in Pakistan will be able to use our new international enquiry service to find information about the visa application process.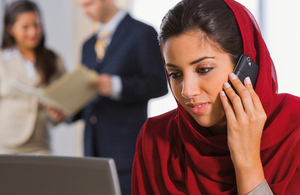 Gerry's will no longer be responsible for handling customers' enquiries about UK visa applications. All applicants in Pakistan requesting information should contact the new international enquiry service.
The new enquiry service will provide an improved service to visa customers in 20 languages, including Urdu. The opening times in Pakistan will be 10:00 t0 06:00 p.m. PST. Customers can use our improved .Gov website to access all relevant information about the visa process. If they need to contact us they can do so via email, telephone or webchat. Contact by e-mail is free, speaking to an advisor costs £1.37 per minute on top of the cost of the call and a ten minute webchat will cost £4. The phone enquiries can be made at 00 44 1243 217 905.
Further information
The new enquiry service is provided by Hinduja Global Solutions (HGS) working in partnership with UK Visas and Immigration to provide enquiry services to people applying for a visa.
The enquiry service will provide a better service to customers, at a lower cost to UK Visas and Immigration. Customers will receive a response more quickly and in some cases the cost of their call will be cheaper.
HGS staff do not play any part in, or influence the outcome of visa applications.
Click here for some Frequently Asked Questions (FAQs) (MS Word Document, 22.6KB) .
Published 1 April 2014