News story
New interim Chief Executive of NAS announced
He will be filling the vacancy left by Simon Waugh who announced in January that he would be leaving for personal reasons in March after three…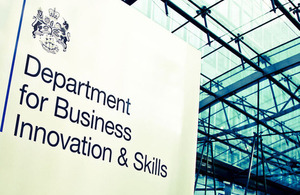 He will be filling the vacancy left by Simon Waugh who announced in January that he would be leaving for personal reasons in March after three years at the head of the organisation.
Skills Minister John Hayes said of David Way's appointment:
"I am pleased that David Way will be taking up this post during an important time for the Government's apprenticeship programme. He will be an enthusiastic and industrious chief executive as we look to increase the quality and quantity of apprenticeships."
Mr Way said:
"I am delighted to have been offered this opportunity. Every month I meet many employers and Apprentices who truly believe in the value and quality of Apprenticeships. My role in leading the NAS is to support them and ensure their experiences are as good as they can possibly be. Like Simon before me, I am passionate about Apprenticeships. I look forward to carrying that passion and commitment into our future work."
---
Mr Way will start immediately.
Notes to editors:
BIS's online newsroom contains the latest press notices, speeches, as well as video and images for download. It also features an up to date list of BIS press office contacts. See http://www.bis.gov.uk/newsroom for more information.
Notes to Editors
Contact Information
Name BIS Press Office Job Title
Division COI Phone
Fax
Mobile
Email NDS.BIS@coi.gsi.gov.uk
Name Alison MacLeod Job Title
Division Department for Business, Innovation and Skills Phone 020 7215 6140 Fax
Mobile
Published 21 March 2012