Announcement
New interactive careers and learning tool launches
This was published under the 2010 to 2015 Conservative and Liberal Democrat coalition government
Lifelong Learning Accounts will empower adults to take more control over their learning by providing clear information and advice on skills,…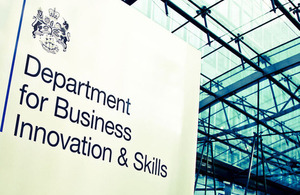 Lifelong Learning Accounts will empower adults to take more control over their learning by providing clear information and advice on skills, careers and financial support all in one place.
Account holders will have free access to a number of online tools, including:
A skills diagnostic tool to identify their interests, strengths and needs

Localised course and job searches

A CV builder

An 'eligibility checker' to identify Government funding available to them

A facility to store all their personal learner information - CVs, skills tests, job and course searches - in one easily accessible place they can share with a careers adviser.
Minister for Further Education, Skills and Lifelong Learning, John Hayes said:
"Lifelong Learning Accounts will encourage individuals to learn, and keep on learning. I want the accounts to help build a national community with the desire to seek out knowledge and skills and invest in their own success.
"All young people and adults should have the chance to learn and to excel in their chosen skill, getting into work and progressing in their chosen career."
As well as improving access to careers information and personal data, the accounts will encourage users to link up with other learners to share knowledge and experiences. Account holders will be signposted to relevant learners' forums and communities via social media such as Facebook and Twitter.
The accounts will also enable training providers to respond better to what learners want and help careers advisers to deliver targeted advice and support based on an individual's interests.
The Lifelong Learning Accounts offer will continue to develop in 2012 and beyond to provide account holders with the information they want in a way that best suits them.
**Notes to editors: **
For more information on Lifelong Learning Accounts and to sign up for an account, visit direct.gov.uk/lifelonglearningaccount.

To watch the FE & Skills Minister John Hayes talk about Lifelong Learning Accounts visit [http://www.bis.gov.uk/news/topstories/2011/Oct/lifelong-learning](http://www.bis.gov.uk/news/topstories/2011/Oct/lifelong-learning)

Lifelong Learning Accounts are available to all adults (aged 19 and over) and 18-year-olds or over who are Job Centre Plus claimants or offenders in the community.

The Government's ambition is to sign up 1 million account holders by the end of 2012.

Lifelong Learning Accounts will also help existing learners progress including those undertaking apprenticeships. Funding for Apprenticeships in 2010-11 was £1.3bn, and has been increased in 2011-12 to over £1.4bn, sufficient to train 360,000 apprentices. Overall, this Government will deliver at least 250,000 more Apprenticeships over the SR period than the previous Government had planned.

BIS is the major sponsor of WorldSkills London 2011 because skills are a key driver of growth. Lifelong Learning Accounts will be a way of ensuring the learners of tomorrow will excel.

The new accounts are accessible through the Next Step careers service website and will be available via the new National Careers Service when it launches in April 2012.

BIS's online newsroom contains the latest press notices, speeches, as well as video and images for download. It also features an up to date list of BIS press office contacts. See [http://www.bis.gov.uk/newsroom](http://www.bis.gov.uk/newsroom) for more information.
Notes to Editors
Contact Information
Name BIS Press Office Job Title
Division COI Phone
Fax
Mobile
Email NDS.BIS@coi.gsi.gov.uk
Name Katie Kilgallen Job Title
Division Department for Business, Innovation & Skills Phone 020 7215 1861 Fax
Mobile
Document information
Published: 3 October 2011