Press release
New initiative unpicks complicated data for disability groups
Small disability groups could boost their chances of getting funding and improve their services thanks to new government help.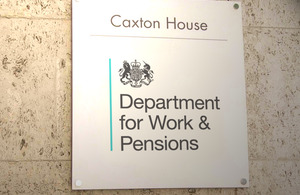 Small disability groups could boost their chances of getting funding and improve their services thanks to new government help to tap into a goldmine of data.
The 'Community Data Toolkit' provides everything disability groups and other grassroots organisations need to know about how to analyse and interpret data in one place.
Often these organisations are run by volunteers or have limited resources, so the Data Toolkit will help them to make sense of what can often be complicated statistical information and build a business case to pitch for work.
Minister of State for Disabled People Mike Penning said:
There are literally hundreds of disability charities and grassroots organisations in the UK, all of whom need to be given the best possible chance of accessing sources of funding and services from providers.

The data toolkit does precisely that by offering clear guidance so groups can get to grips with what can often be baffling and confusing information and give them the confidence to work up professional and practical business cases, which they can use to pitch for work, services and funding.
The document provides an overview of what constitutes data, the types of data available and advice is given on how the different data types should be evaluated. Links to websites run by key data providers, such as the Office for National Statistics, are also provided.
This has been done under 8 main themes:
disability
education
employment
income
health and wellbeing
transport
housing
other disability data
The toolkit is easily accessible and has been brought to life with a series of case studies and scenarios demonstrating how these organisations can put the data to good use and how issues may affect their clients.
It has been created with the help of grassroots organisations including Merton Centre for Independent Living, which provides services to people with all types of disability but employs just 4 staff on a part-time basis.
Lyla Adwan-Kamara, Manager of the Merton Centre for Independent Living said:
It's really difficult to know where to look for data that an organisation like ours needs.

The toolkit is really useful in identifying the different sources of information and helping us to think about how we can interpret that.
Mental health charity Tameside, Oldham and Glossop Mind also contributed.
Performance monitoring officer Chris Buglass added:
Small organisations often find it difficult to have specific members of staff with a background in statistics.

This will really make a difference in helping them make use of data that can support new funding bids and build a greater understanding of their own target audience.
See the ODI website for 'Making Disability Data Work for You: A Community Data Toolkit
More information
The Toolkit was drafted by the Office for Disability Issues with the support of several charities and disabled groups including Scope, Tameside, Oldham and Glossop Mind, and Merton Centre for Independent Living
The Toolkit will help small organisations in a number of ways such as:
improving their services for their clients
understanding their local community better
evaluating their services
helping build business cases for securing new work
A second document detailing how to create new sources of data will be published later in the spring.
Read more about Merton Centre for Independent Living
Read more about Tameside, Oldham and Glossop Mind
To comment on the initiative or to find out more email – fulfilling.potential@dwp.gsi.gov.uk
Contact Press Office
Media enquiries for this press release – 0203 267 5134
Press Office
Caxton House
Tothill Street
London
SW1H 9NA
London Press Office (national media and London area enquiries only – not questions about personal claims) 020 3267 5144
Out-of-hours (journalists only) 076 59 108 883
England and Wales (local media enquiries) 029 20 586 then 097 or 098 or 099
Scotland (local media enquiries) 0131 310 1122
Follow DWP on:
Published 16 January 2014