Press release
New initiative to drive down costs in government back offices
A new joint venture between government and the private sector will help deliver civil service back office functions more efficiently.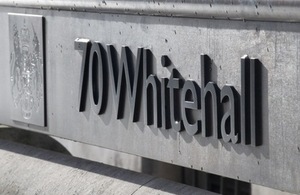 CAB 034-13
The second of two new independent Shared Service Centres will be run as a joint venture between government and a private sector partner, Minister for the Cabinet Office Francis Maude announced today.
The initiative, which is a key part of the Civil Service Reform Plan, will harness industry best practice to deliver government back office functions more efficiently. Consolidating back office functions across government could help deliver between £400 million and £600 million in savings for the taxpayer.
The process to appoint a private sector partner begins this week when the details are published in the Official Journal of the European Union (OJEU).
Independent Shared Service Centre 2 (ISSC2) will be comprised of a number of existing shared service centres, the largest of which is operated by the Department for Work and Pensions (DWP). It will deliver payroll, HR, finance and procurement services to DWP's existing customers, with further government departments joining in due course.
Reduced duplication, shared expertise and larger economies of scale will help reduce back office costs, creating the potential for ISSC2 to grow its business by offering a highly competitive service to new customers across central government, the wider public sector, and, potentially, to private sector clients. This could drive down costs further to deliver even bigger savings.
Minister for the Cabinet Office Francis Maude said:
Sharing services is a key part of the Civil Service Reform Plan – making government more unified, and enabling civil servants to focus on delivering exceptional public services.

The joint venture for the second Independent Shared Service Centre will help drive down the costs of back office services and offer a competitive proposition for additional customers. Future growth will also deliver even more value for the taxpayer.
Stephen Kelly, Government Chief Operating Officer and Head of the Efficiency and Reform Group said:
Lessons have been learned from previous attempts to consolidate back office functions, and we've listened carefully to outside scrutiny. ISSC2 will benefit from private sector expertise to manage and develop the large customer base formed when departments combine their back office functions, while the Cabinet Office will operate Crown Oversight to ensure the necessary benchmarks are reached in order to produce real, meaningful savings.

In the course of the past month we've moved from planning to implementation, and work to establish both new Independent Shared Service Centres is progressing according to schedule.
The announcement of the joint venture for ISSC2 comes a month after the government signed the contract for the running of the first Independent Shared Service Centre (ISSC1) with the private sector provider, arvato, and demonstrates progress in delivering the Strategic Plan for Next Generation Shared Services.
Published 28 March 2013