New Indo-UK partnership in Andhra Pradesh
Rajiv Education and Employment Mission of Andhra Pradesh (REEMAP) & Bournemouth and Poole College, UK join hands to deliver technical and vocational training.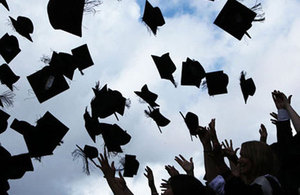 REEMAP an apex body set up by the Department of Rural Development of the Andhra Pradesh (AP) Government and Bournemouth and Poole College, UK have joined hands to deliver vocational and technical training in Andhra Pradesh. The UK College is the first of its kind to develop such a partnership and will help deliver training from the new centre that has been opened in Hyderabad this week.
Bournemouth and Poole College has collaborated with Abacus Overseas Education Advisors Pvt Ltd to set up an operational hub in Punjagutta. The qualifications that will be delivered in Hyderabad will have dual certification from the College in UK as well as from the Association of Business Practitioners, a UK awarding body. The College @Abacus will provide FREE exemplary vocational training in customer care, business, soft skills, to name a few. The new project will help unemployed youth secure jobs or become self-employed. It will also help mentor aspiring social entrepreneurs.
The delegation from Bournemouth and Poole College comprised Lawrence Vincent, Principal and Chief Executive, Sue Sharkey, Director of International & Teacher training and Shailija O'Leary, Project Manager. The delegation met Prof KC Reddy, Chairman REEMAP and Dr R.V Chandravadan, Mission Director REEMAP, to conclude the new partnership.
Andrew McAllister, British Deputy High Commissioner, Hyderabad said:
We are delighted to have been able to facilitate this new partnership. We believe it brings together high quality expertise that the UK is known for and the opportunity and ambition that exists in Andhra Pradesh to mentor social entrepreneurs, to improve the skills of youth to help them secure jobs, better jobs or explore self-employment possibilities.
Further information:
Bournemouth and Poole College is one of the largest, highly regarded state-funded educational institutes in the UK, attracting students from all over the world with expertise in delivering technical and vocational education. It is an award-winning institution with an international reputation working with partners in India. The college provides curriculum advice, vocational qualifications standards and teacher training in China, Kuwait, Norway, Thailand, Nigeria, Saudi Arabia, South Korea, Japan and Sri Lanka.
Bournemouth and Poole College seeks meaningful partnerships with reputed employers and corporates to help provide employment and develop further such partnerships. Queries can be directed to Shailija O'Leary.
Follow UK in India on Twitter, Facebook, Flickr, YouTube, LinkedIn, Storify, Eventbrite, Blogs, Foursqare
Published 18 February 2014