New Independent Reviewer announced
The Secretary of State has appointed David Seymour the Independent Reviewer of exercised powers under the Justice and Security (NI) Act 2007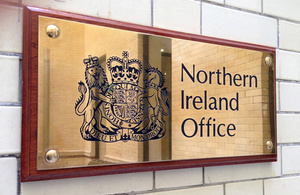 Theresa Villiers today (12 November) announced that David Seymour CB has been appointed the new Independent Reviewer of the exercised powers under the Justice and Security (Northern Ireland) Act 2007.
Mr Seymour will replace the outgoing Reviewer, Robert Whalley CB, on 1 February 2014.
The Secretary of State said:
I am delighted to announce the appointment of David Seymour to this post. He will bring a depth of experience and professionalism in carrying out his duties, based on his extensive knowledge of legislation and case law in this area.
The role of Independent Reviewer is vital in securing confidence in the use of the powers contained in the Act, as well as in the procedures adopted by the military in Northern Ireland for investigating complaints.
David Seymour CB is an experienced lawyer, having held posts including Director General of the Attorney General's Office and Legal Advisor to the Home Office. He has advised successive Home Secretaries on all aspects of Home Office business including terrorism, policing, law and order and national security.
David was a member of the Criminal Justice Review in Northern Ireland established after the Belfast Agreement in 1998 to reform the criminal justice system. He has worked on many issues with the legal community in Northern Ireland over the past 25 years.
David is familiar with the unique operating environment in Northern Ireland. He has extensive knowledge and experience of anti-terrorism legislation in both Northern Ireland and Great Britain.
As Independent Reviewer, David will review the operation of sections 21 - 32 of the Act and those who use or are affected by them. He will also review the procedures adopted by the military for receiving, investigating and responding to complaints. He will report annually to the Secretary of State.
His appointment will be for a period of 3 years from 1 February 2014.
The current Reviewer's 6th report will be published in December 2013, covering the period from August 2012 until July 2013. David Seymour's first report will cover the period from August 2013 until July 2014.
This appointment is classified as an Independent Statutory Office Holder (ISOH) and therefore does not attract oversight from the Commissioner for Public Appointments.
Published 12 November 2013