New independent assessor of compensation appointed
Dame Janet Smith DBE will succeed Lord Brennan of Bibury QC as independent Assessor for miscarriages of justice compensation.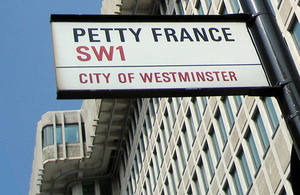 Dame Janet, who retired as an appeal court judge in May, was appointed by the Justice Secretary, Kenneth Clarke following consultation with the Lord Chief Justice who nominated her for the role. Lord Brennan, who has held the position since 27 July 2001 and whose terms of office comes to an end on 26 July 2011, indicated that he did not wish to be appointed for a further term.
Announcing the appointment Kenneth Clarke said:
"I am very grateful to Lord Brennan for the very high level of service he has provided over the past ten years.
Dame Janet Smith is eminently qualified for the role.  She has extensive experience of the assessment of damages in personal injury litigation. As a former Lady Justice of Appeal she will continue the robust independence which her predecessors have brought to the role.  As well as my full confidence she will have the confidence of applicants and their representatives."
Notes to editors
The Assessor's role is to assess the amount of compensation to be paid under section 133 once ministers have decided that the eligibility criteria are met.  Neither Ministers nor officials play any role in the assessment of compensation and the Justice Secretary is required by section 133 (4) to accept the award made by the Assessor.  The Assessor plays no role in deciding whether an applicant is eligible under section 133
Dame Janet Smith DBE was born on 29 November 1940. She was called to the Bar in 1972; became a QC in 1986, a Recorder of the Crown Court in 1988, a Member of the Criminal Injuries Compensation Board for 4 years from 1988-92, a High Court Judge in 1992 where from 1994 she was also a judge of the Employment Appeal Tribunal before becoming a Presiding Judge in 1995. She was Chairman of the Shipman Inquiry and between 2000 and 2004 she was also Chairman of the Civil Committee of the Judicial Studies Board. She became only the fourth Lady Justice of Appeal in 2002. She is a former President of the Council of The Inns of Court. Between 2003 to 2009 she was Chancellor of Manchester Metropolitan University and she has been Chancellor of the Buxton Arts Festival since 2007. Amongst her interests are gardening and music.
Dame Janet retired from her role as an appeal court judge in May this year.
Dame Janet Smith DBE has extensive experience of the assessment of damages in personal injury litigation and was nominated for the role by the Lord Chief Justice of England and Wales.
Dame Janet's appointment as the new Assessor has been announced by a Written Ministerial Statement made to both Houses of Parliament on 29 June 2011. Her initial appointment will run from 1st July 2011 to 30th June 2013.
For more information, please contact the Ministry of Justice press office on 020 3334 3536.
Published 29 June 2011