News story
New improvements to the Chinese visa system announced
New pilot scheme and priority visa service to help simplify the visa process for tourist and business visitors.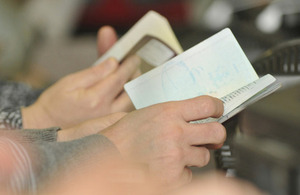 The government has announced plans to introduce a new pilot scheme to allow trusted Chinese travel agents to apply for their customers' UK visas by submitting the EU's Schengen form.
Reduce duplication
This will reduce duplication for agents as at the moment tour groups have to provide large amounts of personal and travel information twice when applying for both the UK and Schengen visas.
Other improvements announced include:
Implementing a new 24 hour 'super priority' visa service, which will become available from summer next year

Looking at how we can expand the popular VIP mobile visa service, currently operating in Beijing and Shanghai, to other major cities in China. This service enables visa teams to go to applicant's office to collect their completed visa forms and biometric data, rather than the applicant having to come to the Visa Application Centre. The process is quick and easy, taking less than five minutes
China is one of the most important markets
China is one of the UK's most important markets for tourism and business and the UK has been successful in attracting more Chinese visitors this year. In the second quarter of this year (between April and June), we received nearly 150,000 visa applications from Chinese nationals, over 40% more than in any other previous quarter.
Excellent service
Home Secretary, Theresa May, said
We are continuing to attract the brightest and best to work and study in the UK, while preventing immigration abuse and bringing net migration down to the tens of thousands.

Our Chinese visa system already provides an excellent service and figures demonstrate that Chinese tourists are increasingly choosing to visit the UK. We will continue to make further improvements wherever possible for visitors travelling independently or as part of a group.
Published 15 October 2012