New 'Home Lines' for Lisburn Gunners
Northern Ireland-based soldiers, who returned from a tour in Afghanistan last October, organised their own unique way of marking the move into their new purpose-built headquarters and workshops - a gun run and salute.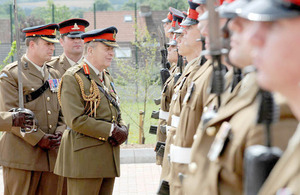 40th Regiment Royal Artillery (The Lowland Gunners) are based at Thiepval Barracks and whilst they were on duty in Helmand contractors were working flat out to complete their new Northern Ireland base.
The new headquarters - delivered by Defence Estates and specially designed and built for a deployable regiment - is called 'Home Lines' (pronounced 'Hume') after the tartan worn by the regiment.
The term 'Lines' refers to a system of linear defensive fortifications and goes back at least as far as the time of the Napoleonic Peninsula War in the early 1800s.
During the opening celebrations of the new facilities in Lisburn, County Antrim, the regiment was also able to honour a number of colleagues who earned operational honours during the arduous deployment.
Three Chief of Joint Operations Commendations, two Commander British Forces (Afghanistan) Commendations for outstanding contributions during Operation HERRICK 10, and one Long Service and Good Conduct Medal were presented to 40th Regiment personnel.
The ceremonies ended with a unique gun run competition. Two teams of six or seven military personnel emerged from vehicles and assembled L118 105mm Light Guns for action before completing an assault course and returning to fire the guns.
The L118 105mm Light Gun has been used in every British conflict since the Falklands and is still in use in Afghanistan today. It is mobile, durable, dependable, suitable for any weather conditions, and is widely regarded as a classic piece of artillery.
Published 14 July 2010