News story
New HMCTS Chief Executive takes up role
Susan Acland-Hood has taken up post as Chief Executive of HM Courts & Tribunals Service. She also announced that Kevin Sadler will be her Deputy Chief Executive.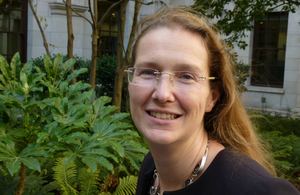 On starting her new role Susan said:
I am very pleased – and know I am very privileged – to have been appointed as Chief Executive of HMCTS. I cannot imagine a better job.

What the courts and tribunals do every day is supremely important. States without justice do not function; the rule of law is one of the things that makes us civilized, and lets us live life knowing that there are some fundamental underpinnings of fairness.

I'm starting in the Ministry of Justice at a time when we have a remarkable opportunity to make a difference. The programme of root and branch change that Ministers, the judiciary and my HMCTS predecessors have developed together is one of the boldest plans in Government. And it is a plan whose time has come. With the Treasury prepared to back it to the tune of a billion pounds, we can deliver what is probably the biggest change to the system in modern times. By building what we do around the experience of those who use the system we can make justice so much better for the millions who rely on it.

I am delighted to have Kevin Sadler – who has been central to the development of the reform programme, and has led it so ably during recent months – as my Deputy CEO. His experience will be essential as we move forward.

While I intend to be mostly in 'understanding and listening' mode in my first few weeks, there are a couple of things that I want to be clear about from the outset. The first is that we have a great reform programme that needs delivering on, not uprooting – and my job is to keep it moving, not to start again from scratch. Secondly I'm clear that HMCTS staff are dedicated, professional, and committed to delivering a really excellent service – and my job is to lead in a way that helps them do that, including by clearing out obstacles that get in the way.

I've been lucky in that I was able to visit quite a few courts and tribunals around the country before I fully took up post. From those early visits I took away a clear sense of the great work that goes on in our courts and tribunals. I saw some of the changes in action – the Digital Case System and Single Justice Procedure, for example – which powerfully brought home the real impact of reform in enabling us to move away from antiquated, paper-based systems.
Susan Acland-Hood is on Twitter @ceoofhmcts.
Published 22 November 2016