World news story
New HM Ambassador to Slovenia presents her credentials to President Pahor
The new British Ambassador to Slovenia, Ms Sophie Honey, presented her letter of credentials to the President of Slovenia Borut Pahor this morning.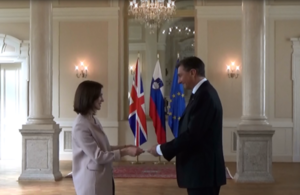 After the meeting Sophie Honey said:
I am delighted to be starting work as UK Ambassador to Slovenia and to have met President Pahor today. I want to build on our strong links, as EU and NATO partners. That means working together within the EU to focus all our efforts on creating more jobs and growth. I hope we can build bilateral trade and will be supporting UK companies looking to invest in and trade with Slovenia. We also need close dialogue on the issues that affect European stability and security including Russia's role in the region, the situation in Ukraine, and a European future for the Western Balkans.

What a privilege it is to be starting this job. Slovenia is a stunningly beautiful country and my family and I have received the warmest welcome possible in just a few days.
Ms Honey succeeds Mr Christopher Yvon who was the UK's Charge d'Affaires in Slovenia since April 2014. Her last position was at HM Treasury working on completion of the Single Market in Financial Services. She previously led the FCO policy team covering Israel, the Occupied Palestinian Territories, Lebanon, Jordan and the Middle East Peace Process and has also worked on Syria, counterterrorism and as Private Secretary to the Minister for Europe. She has served in Zimbabwe and Mexico. She joined the UK Diplomatic Service in 1999 following three years working in the private sector in London and then the Inter-American Development Bank in Washington.
Ms Honey read Physics and Philosophy at Pembroke College, Oxford and Economics at the University of London. She and her partner Peter Savizon have a daughter aged 3 and a son of 8 months.
Follow Ms Honey on her Twitter account @HMASophieHoney.
Published 12 March 2015