News story
New Heritage Lottery Funding for First World War projects
Minister Helen Grant pledges £51,100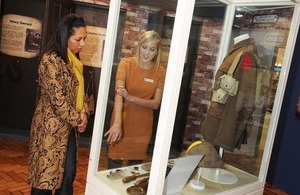 Helen Grant the Minister for Sport, Tourism and Equalities has announced £51,100 of Heritage Lottery Funding for new First World War projects across the North West.
The six First World War projects in Lancashire and Greater Manchester will include:
commemorations of Victoria Cross holder, Lt. Colonel J.E.Grimshaw by his local community;

a Memorial garden and documentary dedicated to 10 boys from Blackburn Orphanage who were killed during the First World War;

a poetry film project by the local community, a historian, an award winning poet and a film maker, participants will use collected artifacts, photographs and memorabilia to create a special poem to mark the Centenary in 2014;

the St James War Memorial Project of St James in the City, Liverpool, will work with local people to discover the First World War history of the names of 144 men listed on two lost war memorials originally based at the church;

the restoration of a wooden First World War memorial by local volunteers that commemorates the teachers and former pupils of Ashton Grammar school who lost their lives during the conflict;

a volunteer led project that will restore, maintain and explore the stories behind hundreds of war graves and memorials in Bacup Cemetery in Rossendale, Lancashire.
This funding is part of the £34 million already invested by the Heritage Lottery Fund into heritage projects across the country to mark the Centenary of the First World War.
Helen Grant said:
Next year's First World War centenary will see the whole of the UK come together to remember that conflict, the sacrifices made and the profound impact it had on the world and every aspect of life in the years that followed. There'll be massive national moments of remembrance and reflection and thousands of smaller projects bringing it alive for local communities.

These Heritage Lottery Fund grants are brilliant examples of the huge variety of things that will take place. Each one small in itself, but when seen as a whole, creating a priceless resource for the whole country, and for today's young people in particular.

This HLF grant scheme is a wonderful use of National Lottery money, helping make worthwhile things happen that quite simply could not get off the ground without it.
Published 4 December 2013