New help for those working with victims of forced marriage
The Government's Forced Marriage Unit has launched an online resource to help frontline professionals working to protect potential victims of forced marriage.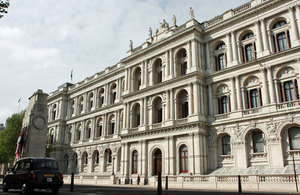 The Forced Marriage Unit's (FMU) Forced Marriage E-learning is the first interactive online training tool which provides guidance to a range of front line professionals on handling forced marriage cases.
The free resource uses scenarios based on real life stories from the FMU's work which take the user through a journey from identifying the first warning signs to providing the right support and reaching a positive outcome. Also aimed at education, health, social care and legal professionals, police and housing officers and registrars, the resource encourages anyone who comes in to contact with those affected, to work together closely in order to protect victims.
The FMU, a joint-initiative between the Foreign & Commonwealth Office and Home Office, is the Government's specialist 'one-stop shop' for forced marriage. It provides support to victims of forced marriage as well as expert training and guidance to professionals working with victims or potential victims. In 2009 the FMU received 1,682 calls or emails to its helpline about potential incidents of forced marriage and is committed to raising awareness about forced marriage across the public sector.
Olaf Henricson-Bell, Joint Head of the Forced Marriage Unit, said: "Front line professionals may only have one chance to help someone at risk of forced marriage, and making the wrong call could have devastating results. Our new online resource is a step-by-step guide on how to deal with forced marriage cases and reach a positive outcome. We encourage people to make the most of this tool in the run up to the summer holidays which is when we see an increase in cases of forced marriage."
Shaminder Ubhi, Director of the Ashiana Network, said: "Given that many of the men and women forced into marriage are of school age, the need to raise awareness of this issue amongst professionals working with young people is essential. This innovative resource will equip them with the skills they need to offer appropriate support to victims."
The Forced Marriage Unit runs a public helpline that provides advice and support to both practitioners handling cases of forced marriage as well as to victims themselves. Call 020 7008 0151 between 9am-5pm Monday to Friday or email fmu@fco.gov.uk. For out of hours emergency advice, call 020 7008 1500 and ask for the FCO Global Response Centre. Further information can be found by visiting www.fco.gov.uk/forcedmarriage
Published 4 June 2010