Press release
New headquarters for rail accident investigators
Rail Accident Investigation Branch enters new premises.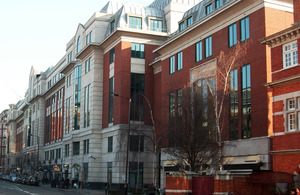 Transport Secretary Patrick McLoughlin today (8 November 2012) officially opened the new premises of the Rail Accident Investigation Branch (RAIB), the independent investigators working to make the railways safer.
The southern team of the RAIB is now based at Cullen House, near Aldershot, Hampshire, on the same site as the Air Accident Investigation Branch (AAIB). Previously the team were based in Woking.
Patrick McLoughlin said:
Rail is significantly safer now than in previous years because the industry has ensured safety issues have been identified and safeguards introduced.

The RAIB is helping to ensure that our safety record continues to improve by carrying out thorough investigations when something goes wrong and identifying what needs to change to prevent it happening again. The new premises at Cullen House give the RAIB an excellent base from which to carry out their work.
Chief Inspector Carolyn Griffiths said:
Cullen House provides a continuing presence for the RAIB in the south east which together with its northern team in Derby provides a balanced coverage for the geographical territory we investigate.

To date since becoming operational in 2005 we have completed 196 investigations The industry has implemented 95% of recommendations from those investigations, bringing about real changes that improve safety for passengers and those who work on the railways.
During a visit to Cullen House, Patrick McLoughlin met RAIB staff and unveiled a plaque marking the official opening of the new premises.
Notes to editors
The new premises are named after Lord Cullen who in 2000 led a public enquiry into the Ladbroke Grove rail crash.
The sole purpose of RAIB investigations is to prevent future accidents and incidents and improve railway safety - the RAIB does not establish blame, liability or carry out prosecutions.
For media enquiries, please call 020 7944 3248.
Rail media enquiries
Media enquiries 020 7944 3021
Out of hours media enquiries 020 7944 4292
Switchboard 0300 330 3000
Published 8 November 2012