New Head of UK Delegation to the OSCE Vienna
Mr Dominic Schroeder has been appointed Head of the United Kingdom's Delegation to the Organisation for Security and Co-operation in Europe in Vienna.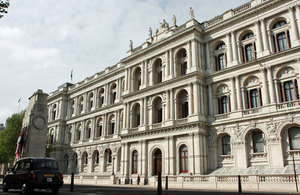 He will succeed Mr Ian Cameron Cliff OBE who has transferred to another Diplomatic Service appointment. Mr Schroeder will hold the personal rank of Ambassador and will take up his appointment during August 2011.
Mr Schroeder joined the FCO in 1988 and worked in a wide range of FCO positions with a focus most recently on Europe and the former Soviet Union. He has served in Berlin twice, most recently as Deputy Head of Mission, and between these tours was European Correspondent in the FCO during the UK's Presidency of the EU in 2005 and Deputy Head of the FCO's Eastern Department.
On his appointment as Head of the United Kingdom's Delegation to the OSCE in Vienna, Mr Schroeder said "I am delighted to be taking up this position. The crucial work of the OSCE continues, and I look forward to pursuing this and representing the position of the United Kingdom".
Curriculum vitae
Full name: Dominic Schroeder
Married to: Susan Schroeder
Children: One son and one daughter
2011 - present Bratislava, Head of Mission
2006 - 2010 Berlin, Counsellor EU/Economic and from 2009 additionally Deputy Head of Mission
2004 - 2006 FCO, Head of Common Foreign and Security Policy Group/European Correspondent
2001 - 2004 FCO, Deputy Head of Eastern Department
1997 - 2001 British Embassy Berlin, 1st Secretary and Head of Commercial Section
1997 British Embassy Tehran, Temporary Duty as Charge d'Affaires
1996 - 1997 FCO, Head of Iran Section
1994 - 1996 FCO, Senior Press Officer, News Department
1993 - 1993 New York, 2nd Secretary UK Mission to the UN
1992 - 1993
FCO, Assistant Desk Officer (Middle East Peace Process)
1989 - 1991 Kinshasa, 3rd later 2nd Secretary
1988 - 1989 FCO, Assistant Desk Officer, (NATO)
Search the news archive
Published 6 May 2011